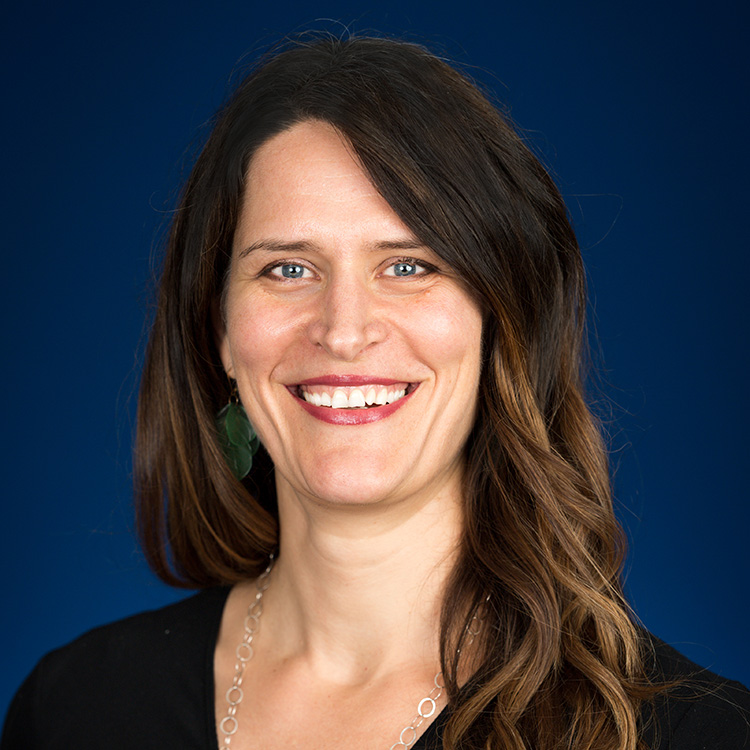 "Martina Jerant is brimming with energy, big ideas and "outside the box" thinking, which has been instrumental in achieving the Center for RNA Biomedicine's mission to build bridges across our large campus through a broad range of activities that Martina handles essentially on her own, with little input from us, and all extraordinarily competently," wrote the U-M Center for RNA Biomedicine (CRB) co-directors, Mats Ljungman and Nils Walter, in their nomination letter for the "U-M Staff Impact Award."
For the last three-and-a-half years as the Manager of the CRB, initially jointly as a Lab Manager for the Walter group (LSA Chemistry), Jerant has brought creativity, positive attitude and superb interpersonal skills to everything she does. And she does a lot, initiating numerous network collaborations and contributing to the RNA scientific community, as well as engaging her colleagues in M-Healthy and stress management activities among others.
Jerant believes in networking, bouncing ideas off others and most of all, in learning. At U-M, she found that "there is an expert on practically anything you might want to do. I love this place! For example, I needed to create a meaningful and specialized survey for our researchers. So I asked around, and a colleague in one of my network groups knew a Qualtrics expert at the Survey Research Center at the Institute for Social Research who kindly spent time with me to create and test the survey as well as interpret the results. It was amazing to work with such an expert, and I learned so much." Jerant found many open doors when meeting with experienced U-M staff and benefitting from their guidance and suggestions.
Jerant brings her enthusiasm for learning, coupled with boundless energy, from her previous career as an Olympian athlete. She then was exposed to various coaching experiences, growing her basketball skills from College athlete all the way to the 1996 Olympic Games in Atlanta. "Beyond the incredible adrenaline rush I got at this level of competition –everything was way beyond what I thought I could ever achieve– I also got to recognize the value of good coaching and leadership." With the Staff Impact Award, Jerant feels greatly appreciated by CRB's directors who encourage her to keep exploring and to try new collaborative techniques.
For Jerant it is important to be part of a team, but it is crucial to put much effort into working on oneself, as an individual. Her goal at U-M is to always learn from others, discover what is possible and is available, and leverage resources to expand networking opportunities. And when asked what advice she would give, she answers that "it is really important to keep an open mind, value diversity, and be always learning."
Jerant holds an undergraduate degree in Biology from Brown University and a Master's degree in Public Health from Columbia University. She received the 2020 University of Michigan Staff Impact Award that recognizes her excellence in her daily work and her efforts to make a difference. The Staff Impact Award is selected by a committee of peers and celebrates those who champion volunteerism and service within the university — going above and beyond by taking on additional challenges. It honors staff who are wall-breakers and bridge-builders — people who find ways to collaborate across units and find solutions to make the workplace better for us all.
Congrats Martina!