Our 5th Annual Symposium will take place Thursday and Friday, March 25th and 26th, 2021, 11:00–2:30 EST.
VIRTUAL, free and open to all – registration required.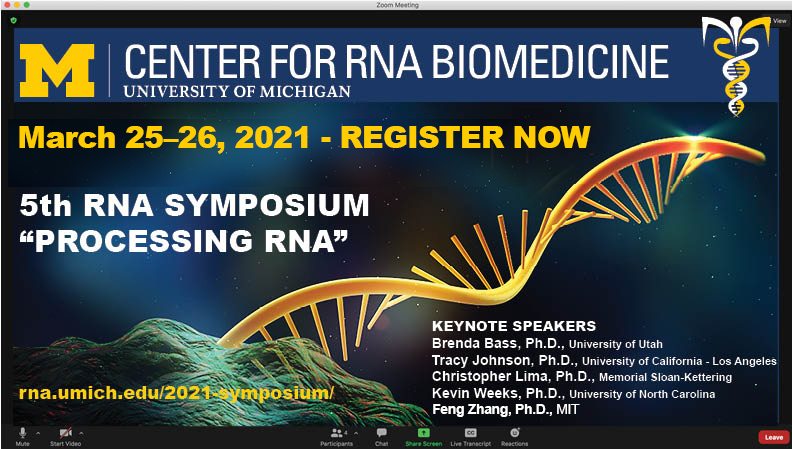 RNA research shapes revolutionary scientific paths, from fundamental science discoveries in the labs to powerful biomedical applications for patients. The rapid rise of RNA-guided genome editing tools and mRNA-based vaccinations demonstrates the tremendous impact of such breakthroughs. To help us "process" these advances, five Keynote speakers and six Data Blitz presenters will give us their takes on RNA biomedicine, from RNA processing to RNA structure and CRISPR tools. Join us for what promises to become an inspiring 5th annual symposium, socially distanced but undeterred by COVID-19.
DATA BLITZ SUBMISSION – Abstract deadline extended to Monday, March 1, 2021
This is an opportunity to present your best science at this high profile event. University of Michigan junior scientists (students, postdocs, junior faculty and researchers) are invited to submit a poster. Six applicants will be invited to present it at the symposium. For more information, please contact Martina Jerant.
KEYNOTE SPEAKERS
SYMPOSIUM SCHEDULE
Thursday, March 25, 2021 
11:00–11:05 / Welcome
11:05–12:00 / Keynote 1: Tracy Johnson, Ph.D., University of California – Los Angeles (RNA splicing)
12:00–12:10 / Short break
12:10–1:05 / Keynote 2: Kevin Weeks, Ph.D., University of North Carolina: "Structure-Based Discovery of New Functions in Large RNAs"
1:05–1:35 / Data Blitz (three finalists from the poster submissions)
1:35–2:30 / Keynote 3: Feng Zhang, Ph.D., Massachusetts Institute of Technology: "Exploration of Biological Diversity to Discover Novel Molecular Technologies"
2:30–2:30 / Brief closing
Friday, March 26, 2021
11:00–11:05 / Welcome
11:05–12:00 / Keynote 4: Brenda Bass, Ph.D., University of Utah: "Distinguishing self and non-self dsRNA in vertebrates and invertebrates"
12:00–12:10 / Short break
12:10–1:05 / Keynote 5: Christopher Lima, Ph.D., Sloan-Kettering Institute: "Mechanisms that target RNA for destruction"
1:05–1:35 / Data Blitz (three finalists from the poster submissions)
1:35–2:25 / Panel discussion with keynote speakers
2:25–2:30 / Closing
---
Sponsored by the University of Michigan Biosciences and Lexogen