Recruitment Opportunities
Current opportunities:
September 2023 – Postdoctoral Fellow – Sethu Pitchiaya Lab – UMich Department of Pathology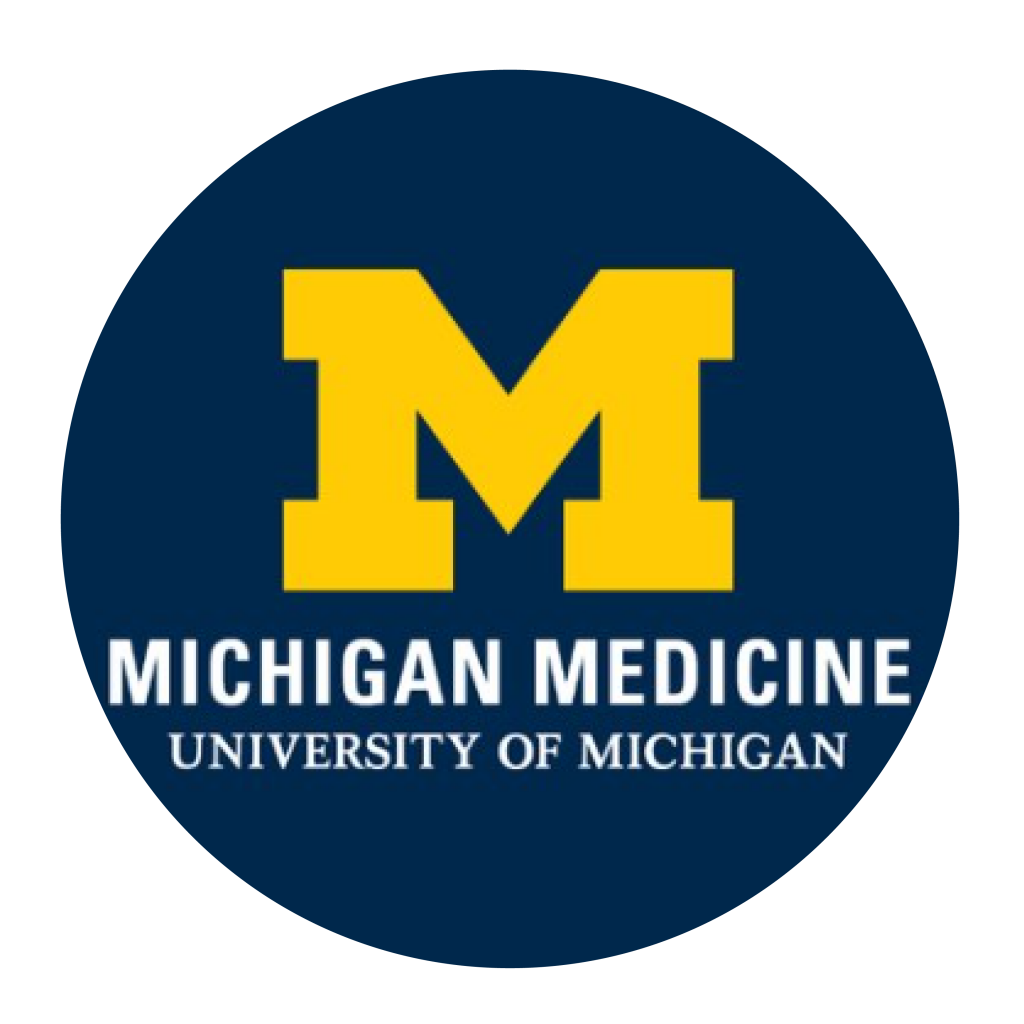 The laboratory of Dr. Sethu Pitchiaya, Assistant Professor, Department of Urology, Department of Pathology at the University of Michigan seeks to hire an enthusiastic Postdoctoral fellow to work on exciting projects related to mammalian stress response mechanisms.
The Pitchiaya lab is working towards understanding how mammalian cells of various lineages respond to intrinsic and environmental stress and how these programs go awry in degenerative diseases and cancer. To address these pressing questions in physiology and pathology, we probe a variety of in vitro systems, in vivo models and mammalian tissues using an arsenal of contemporary technologies, including single-molecule microscopy, super-resolution imaging, single-cell sequencing and spatial omics. More information about the lab can be found in https://sethupitchiaya.org/.
Successful candidates will work with an interdisciplinary and dynamic group of scientists and clinicians, and have the unique opportunity to work on projects that span basic and/or translational sciences. Candidates are expected to contribute to projects both intellectually and technically, actively partake in the preparation of grants and manuscripts and present their work at national and international meetings. An ideal candidate will be a responsible, organized and collaborative individual, who embraces diverse ideologies in science and otherwise.
The Pitchiaya lab is located at the vibrant North Campus Research Complex (NCRC), at the University of Michigan, Ann Arbor. The NCRC houses diverse laboratories, research cores, and units promoting commercial advancements of ideas, with the added perk of ample and accessible parking space. The city of Ann Arbor has been rated as one of the best cities to live in America. The city and the state of Michigan overall have abundant opportunities for leisure activities for people of all ages (https://www.michigan.org/).
We are committed to fostering a diverse and inclusive work environment, which supports individual development and collaborations. We encourage applications from under-represented minorities, including women, individuals from disadvantaged backgrounds, under-represented racial or ethnic groups, and individuals with disabilities. We will make every effort to remove any barriers to the success of the hired individual. For further details about this position, please send an email to sethu@umich.edu.
September 2023 – University of Michigan BIBC Tenure Track Faculty Search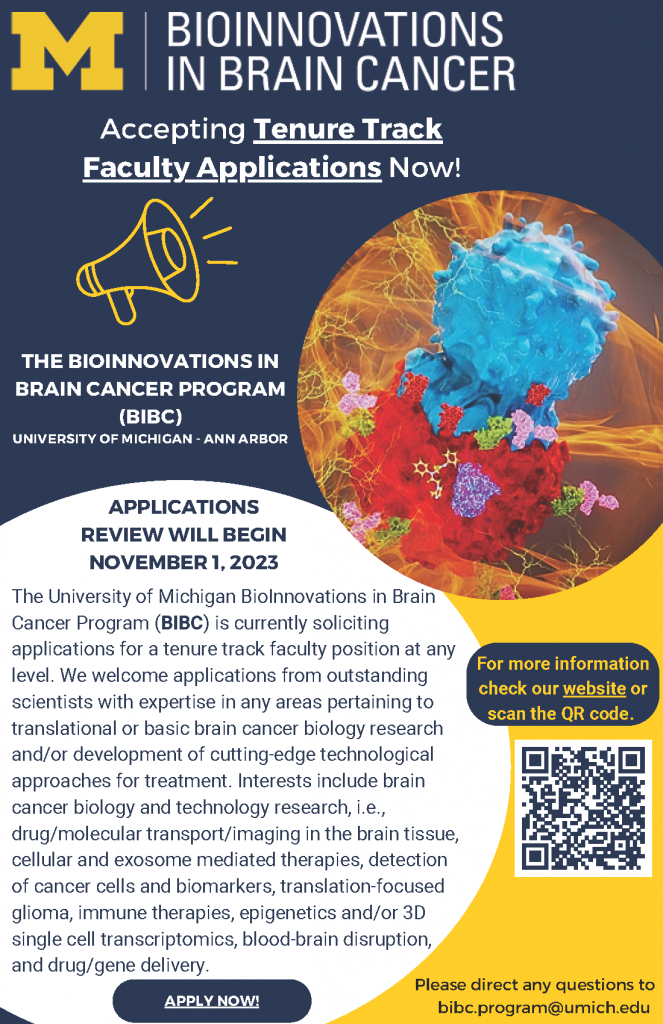 The University of Michigan has launched a Tenure Track Faculty Search for the BioInnovations in Brain Cancer Initiative (BIBC), led by Dr. Maria G. Castro and Dr. Steven Schwendeman.
We are looking for talented scientists at all levels to work with our multidisciplinary team of cancer experts, clinicians, chemists, and engineers to drive innovation and translation that will deliver technological breakthroughs that impact brain cancer patients' lives. 

If you or your colleagues know of any exceptional candidates at any level, we would be grateful if you could forward the posting along. It can be found on the Science Careers page or they can view the posting directly on our Interfolio application site or you can use the attached flyer.
—
BioInnovations in Brain Cancer Program
Biointerfaces Institute
September 2023 – Call for Volunteers – Program Coordinator for the RNA Society RNA Salon Program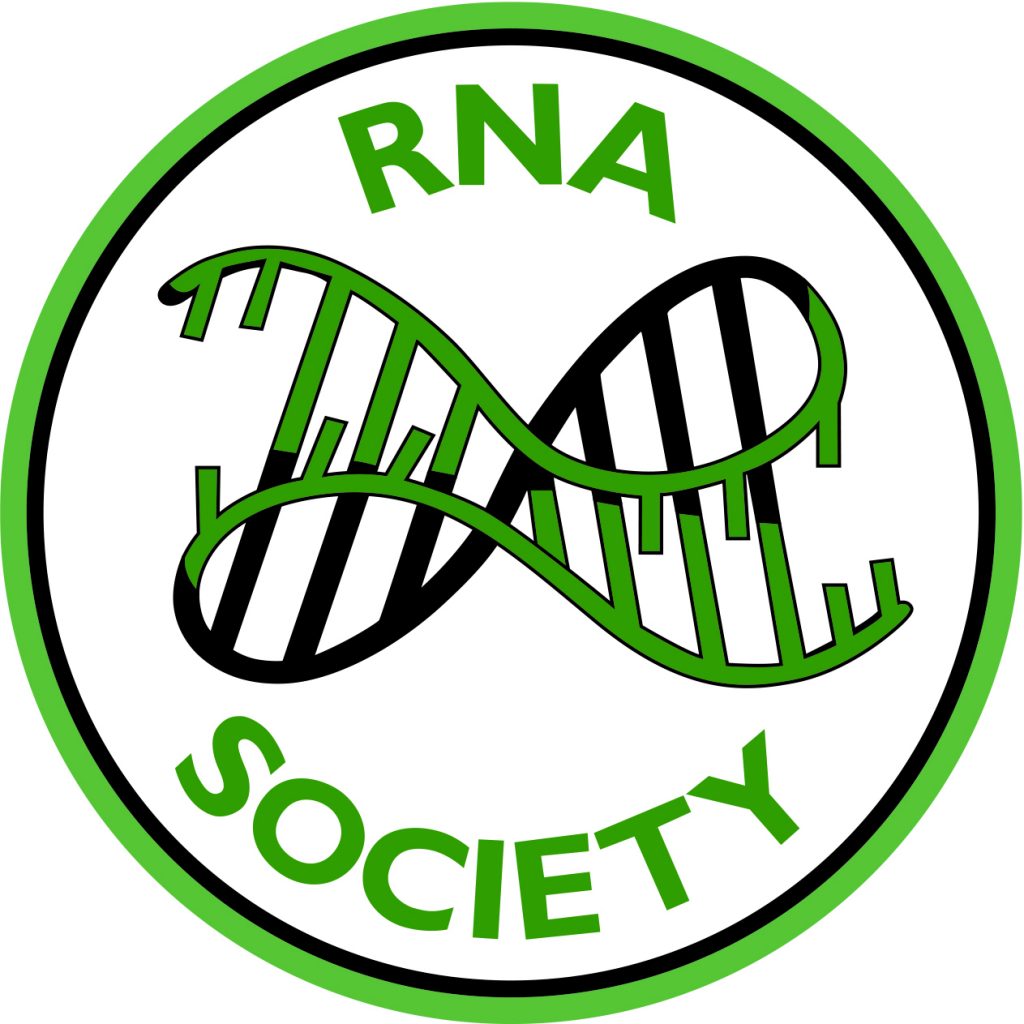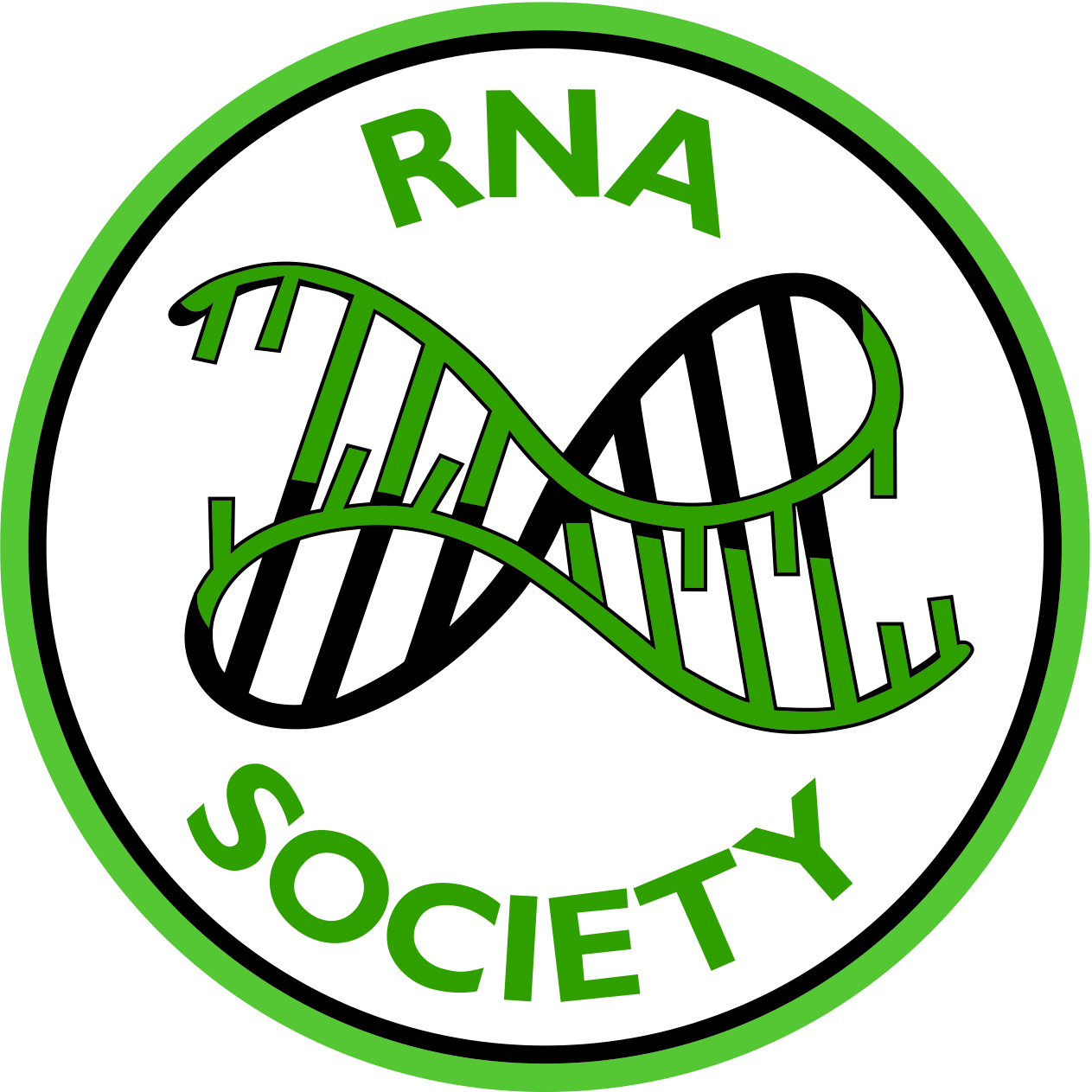 The RNA Society is seeking to fill the position of RNA Salon Program Coordinator and invites current Full members interested in leading this program to come forward. The RNA Salon Program is recognized as a key leadership position and offers unique opportunities for networking via interaction with RNA Society stakeholders around the world.
The RNA Salon Program Coordinator requires a time commitment of ~10 hours per month and attendance at the RNA Society Annual Meeting. The term of the position is three (3) years with the possibility of extension and the Coordinator is provided full expenses to attend the Annual Meeting in recognition of their service.
A brief description of the RNA Salon Program Coordinator role can be found below and any questions related to the position can be addressed to RNA Society CEO, Kristian Baker (ceo@RNASociety.org). Interested members should submit their CV and a brief statement describing any leadership/administration experience relevant to the position to RNA@RNASociety.org; applications will be accepted until September 31st, 2023.
RNA Salon Program Coordinator
The RNA Salon Program Coordinator administers the prestigious RNA Salon Program of the RNA Society, thereby enabling the activities of more than ~50 RNA Salons sites worldwide. The RNA Salon Program represents the central element of local and regional membership engagement within the RNA Society and enjoys participation by over 6,000 RNA researchers around the globe.
Reporting to the Chair of the RNA Society Membership Committee, the RNA Salon Program Coordinator works closely with RNA Society leadership to administer the RNA Salon Program, and is also responsible for maintaining the key partnership with the program's industry sponsor (currently Lexogen). Through their activities, the Program Coordinator oversees an annual budget of ~$100K USD and is responsible for developing a long-term vision for this program aimed at continually advancing its activities through meaningful innovations. Activities span throughout the academic year with peak times during September and October when the Program Coordinator leads the solicitation, review and acceptance of RNA Salon applications and sets up new rounds of funding for the selected RNA Salons.
September 2023 – The University of Michigan Single Cell Spatial Analysis Program is hiring for Faculty Positions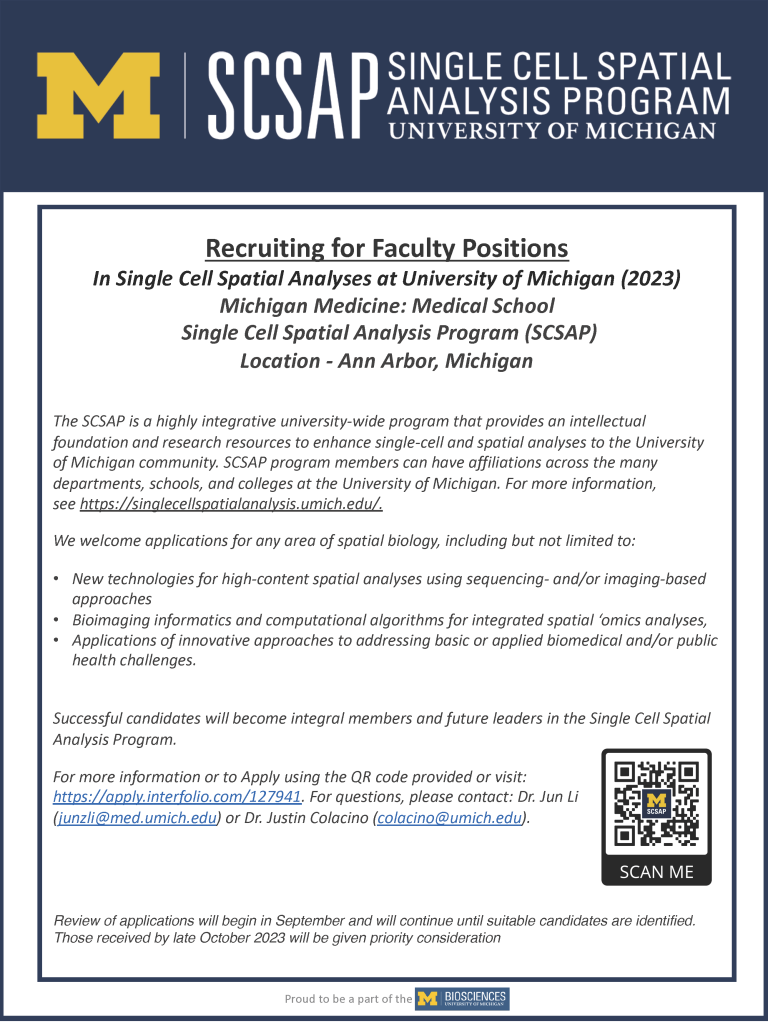 Recruiting for Faculty Positions In Single Cell Spatial Analyses at University of Michigan (2023)Michigan Medicine: Medical School
Single Cell Spatial Analysis Program (SCSAP)
Location – Ann Arbor, Michigan
The SCSAP is a highly integrative university-wide program that provides an intellectual foundation and research resources to enhance single-cell and spatial analyses to the University of Michigan community. SCSAP program members can have affiliations across the many departments, schools, and colleges at the University of Michigan. For more information, visit the Single Cell Spatial Analysis website. We welcome applications for any area of spatial biology, including but not limited to:
New technologies for high-content spatial analyses using sequencing- and/or imaging-based approaches
Bioimaging informatics and computational algorithms for integrated spatial 'omics analyses,
Applications of innovative approaches to addressing basic or applied biomedical and/or public health challenges.
Successful candidates will become integral members and future leaders in the Single Cell Spatial
Analysis Program. For more information or to Apply visit: https://apply.interfolio.com/127941. For questions, please contact: Dr. Jun Li (junzli@med.umich.edu) or Dr. Justin Colacino (colacino@umich.edu).
Review of applications will begin in September and will continue until suitable candidates are identified.
Those received by late October 2023 will be given priority consideration.
August 2023 – RNA Biology Laboratory at the National Cancer Institute – Biologists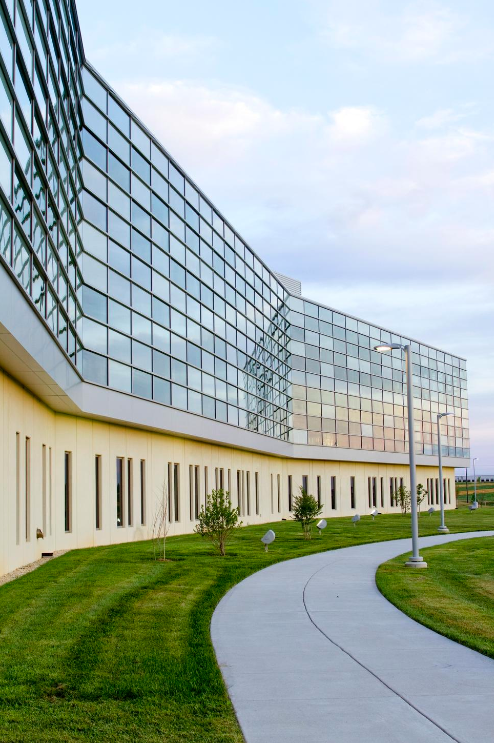 The RNA Biology Laboratory (RBL) at the National Cancer Institute (NCI) in Frederick, MD, which is part of the National Institutes of Health (NIH), is currently seeking to recruit outstanding young RNA biologists. The RBL, which was formed in 2017, is the equivalent of a small department at an academic institution. We seek candidates who will complement our current group of six principal investigators.
Areas of interest include, but are not limited to, RNA therapeutics; long noncoding RNAs; RNA modifications; RNA genomics and bioinformatics; RNA transport and visualization; mechanisms of RNA condensation and granule formation; and the ways in which altered RNA homeostasis results in diseases such as cancer.
Candidates for interview will be selected via the NIH Stadtman Tenure Track Investigator program. Our recent hires through this mechanism include Eugene Valkov (Elisa Izaurralde lab), Thomas Gonatopoulos-Pournatzis (Benjamin Blencowe lab) and Colin Wu (Rachel Green lab). Other NCI RNA biologists who were hired recently via this program include Pedro Batista (Howard Chang lab) and Joana Vidigal (Andrea Ventura lab).
Single application available at the Stadtman program. Applicants are asked to select two areas that best describe their expertise. There will be a dedicated committee that reviews the applications of all applicants choosing "RNA Biology". The application deadline is September 30, 2023.
For more information email Sandra L. Wolin, M.D., Ph.D., Chief and Senior Investigator, at sandra.wolin@nih.gov.
The University of California Irvine (UCI), Department of Ophthalmology – Full-Time Position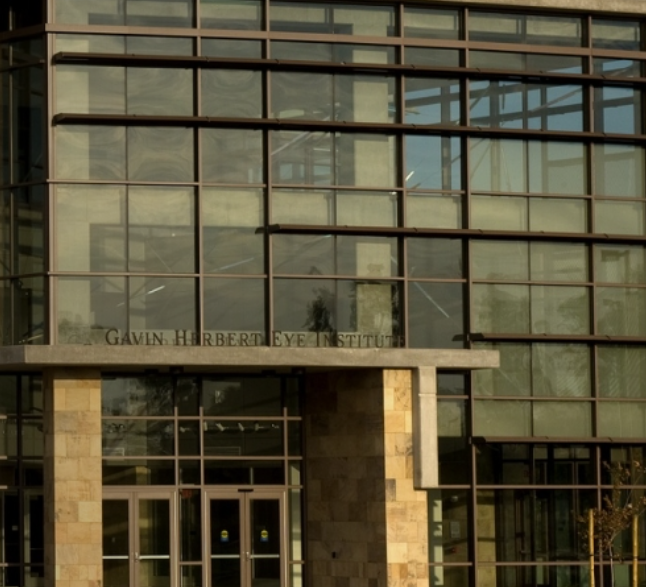 The University of California Irvine (UCI), Department of Ophthalmology invites applications for a full-time position. We seek candidates interested in building a strong, dynamic, and diverse research group focused on the development of genetic engineering and genome editing technologies that address problems in medicine, including diseases of the eye.
Applicants working on any area of genetic engineering broadly defined will be fully considered. Areas of particular interest include gene editing, gene delivery, gene therapy, and their relevance to vision research. Candidates must hold a Ph.D. in the biomedical sciences or a related field of study. Postdoctoral experience and a demonstrated ability to conduct original, innovative genetics research is desirable.
This academic appointment will be at the tenure-track/tenured faculty position which confers membership in the UCI Academic Senate. The Department seeks applicants with an M.D., Ph.D., or M.D./Ph.D. degree who will be expected to establish an extramurally funded independent research program related to vision and/or retinal diseases with emphasis in ocular genetics, biochemistry, biophysics, ophthalmology, pharmacology and/or physiology. Successful candidates will have an established strong record of NIH funding, a significantly established research program, and experience in teaching. Candidates will be expected to support institutional and departmental teaching and mentoring missions to medical and graduate students, residents, fellows, and young faculty. Salary and rank will be commensurate with experience and expectations.
Interested candidates should apply through the UC Irvine RECRUIT system and upload the following application materials to be considered for the position:
Cover Letter
Curriculum Vitae
Statement of Research (up to 3 pages)
Teaching Statement
Inclusive Excellence Activities Statement
Name and contact information for 3-5 referees.
PDFs of 3-5 recent publications
Inquiries about the position can be addressed to Dr. Krzysztof Palczewski at kpalczew@uci.edu
Applications will be considered until the position is filled.
August 2023 – Postdoctoral Research Fellow and Graduate Research Assistants – Dr. Guizhi (Julian) Zhu Lab | University of Michigan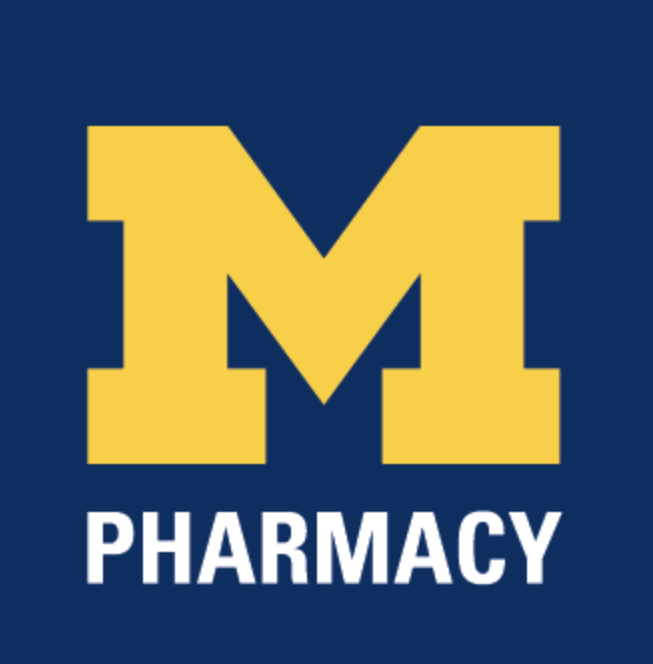 Dr. Guizhi (Julian) Zhu Lab in the Department of Pharmaceutical Sciences of University of Michigan has multiple full-time openings for Postdoctoral Research Fellow and Graduate Research Assistants.
With the overarching goal to develop novel and clinically translatable nucleic acid immunotherapeutics and vaccines, Zhu Lab's research interest lies at the interface of RNA/DNA/protein chemistry and engineering, immunology, and applied chemistry and biomaterials. Our current focus is to develop circRNA/mRNA/oligonucleotide immunotherapeutics/vaccines and their delivery systems for the prophylaxis or immunotherapy of cancer, infectious diseases, and autoimmune disorders. We have published 100 papers including recent research articles in Science Advances and Nature Communications. Learn more about Dr. Guizhi (Julian) Zhu.
Responsibilities: Lead research projects and work with the team on research projects, train junior graduate students and undergraduate students, writing manuscripts and assist in writing research proposals, and other duties required for regular lab management and research development.
Required Qualifications for Postdocs
Candidates must hold a Ph.D. or equivalent degree in a relevant scientific discipline. Expertise in one or multiple of the following fields are desirable: nucleic acid chemistry/engineering/delivery, immunotherapy or vaccine development, gene editing, drug delivery, or related areas
Strong motivation and down-to-earth attitude for scientific innovation and drug/vaccine/technology development
Independent analytical and problem-solving skills: Ability to think critically, design experiments, analyze and interpret data, and troubleshoot experimental challenges
Communication and teamwork: Excellent written and verbal communication skills and the ability to work collaboratively in a diverse team environment.
How to Apply
Interested Postdoc applicants please submit the following application materials to Dr. Guizhi Zhu guizhiz@umich.edu:
CV
A summary of previous research experience
A brief statement of future research interests and career goals
Contact information for three letters of reference
Prospective graduate students and research scientists are welcome to contact Dr. Zhu to discuss opportunities (guizhiz@umich.edu).
Additional information about the Zhu Lab and the University of Michigan Ann Arbor campus.
August 2023 – Research Technician and Post-Doctoral Research Fellow – Fred Hutchinson Cancer Center | The Lapointe Lab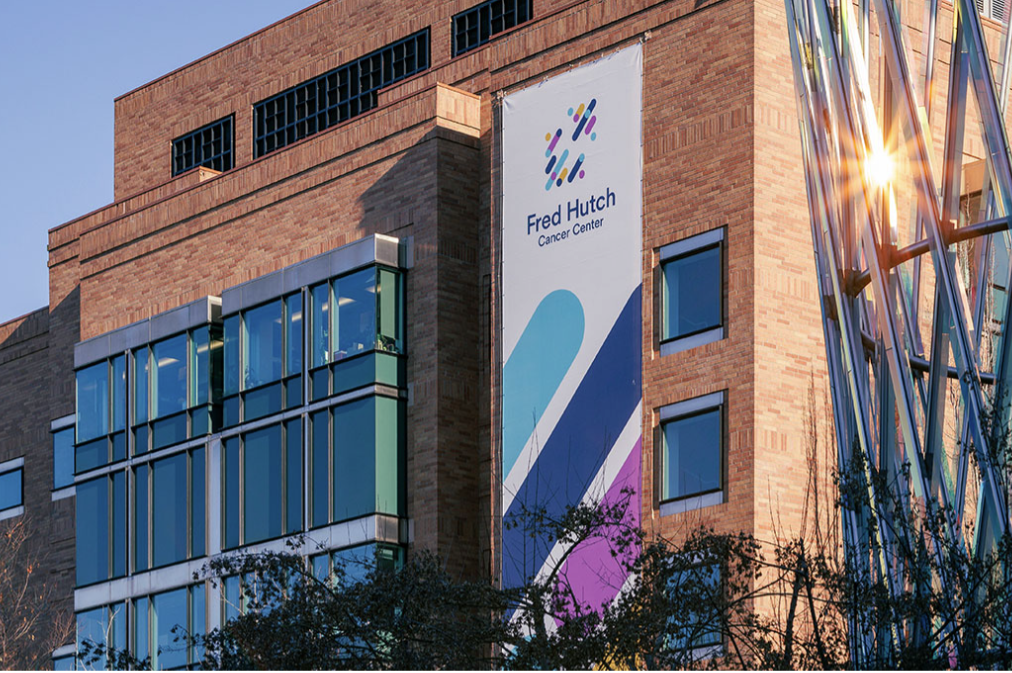 The Lapointe Lab at the Fred Hutchinson Cancer Center is growing, and we are currently seeking to fill two positions: Research Technician and Post-Doctoral Research Fellow.
Research Technician:
This position is ideal for a recent graduate (bachelor's degree) who wants to gain more research experience before pursuing graduate studies. When you join our group, we prioritize your continued development into an independent scientist.
Please follow this link for instructions on how to apply.
Post-Doctoral Research Fellow:
This position is ideal for a recent (or soon to be) Ph.D. graduate that is excited about RNA, translation, and/or viruses. When you join our group, we prioritize your continued development into an independent scientist.
Please follow this link for instructions on how to apply.
About:
The Lapointe lab is driven by questions that underly how human messenger RNAs (mRNAs) and the ribosome are regulated to determine when, where, and how much of a protein to synthesize.
Fred Hutchinson Cancer Center is an independent, nonprofit organization providing adult cancer treatment and groundbreaking research focused on cancer and infectious diseases. Based in Seattle, Fred Hutch is the only National Cancer Institute-designated cancer center in Washington.
For more information contact the Employee Services Center at hrops@fredhutch.org or by calling 206-667-4700.
August 2023 – Research Technician – Yadavalli Lab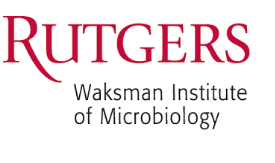 The Yadavalli lab at the Waksman Institute of Microbiology at Rutgers University (yadavallilab.org) is looking for a full-time technician or research scientist to perform cutting-edge research in RNA biolog using high-throughput sequencing methods. We are seeking motivated candidates, who are enthusiastic to train and build their skills in the generation of next-generation sequencing libraries. Our studies primarily use bacteria, and we collaborate on several projects involving human cell lines, mice, and other model organisms.
Knowledge and Experience
Bachelor's, master's, or Ph.D. degree in biological sciences, genetics, biochemistry, or a related scientific field
One or more years of molecular biology research experience is required
Experience with high-throughput sequencing library preparations is highly desirable
Good communication, meticulous organization and record-keeping, and computer literacy are required
Salary and benefits
Range $40-80k, commensurate with experience and level of education
Medical and dental insurance
Retirement benefits
Flexible times
Applicants should send a CV, transcript, and a list of references to Dr. Srujana Samhita Yadavalli at sam.yadavalli@rutgers.edu.
July 2023 – Postdoctoral Position – Maquat Lab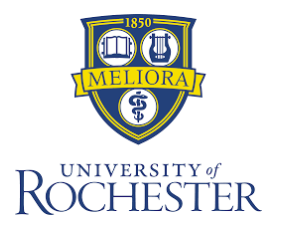 A postdoctoral position is open in the Maquat Lab at the University of Rochester Medical Center in Rochester, NY. Applicants should hold a PhD or MD/PhD degree(s) and have expertise in molecular, cellular, or structural biology to study one of a number of very exciting and ongoing projects, including but not limited to FMRP function in Fragile X Syndrome (FXS), newly defined effectors of nonsense-mediated mRNA decay, or the mechanistic coupling of transcription and RNA processing on chromatin and beyond. A background in neurobiology and/or stem-cell biology would facilitate the work on FXS (see, e.g., this article in the journal Nature), and a background in computational biology would facilitate all projects, but neither is required.
Interested individuals should submit:
A complete curriculum vitae
The names and email addresses of three references (applicants should state their relationship to each)
A description of RNA research experience, including experimental approaches and technologies with which the applicant has experience.
The successful applicant will join a very productive, interactive lab and a lively, supportive RNA community that consists of more than 25 labs spanning the University of Rochester Medical Center and the adjacent Colleges of Arts, Sciences & Engineering. The Maquat lab offers an outstanding research environment, excellent opportunities to collaborate with basic scientists and clinicians, and a strong record of training postdocs for academic positions.
Please submit applications to: Liz at elizabeth_leverenz@urmc.rochester.edu
The University of Rochester is committed to diversity and equality in education and employment. EOE Minorities/Females/Protected Veterans/Disabled.
July 2023 – Postdoctoral Position – Cooperman Laboratory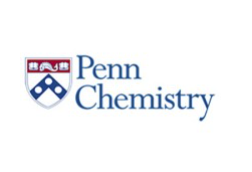 The Cooperman laboratory in the Chemistry Department of the University of Pennsylvania is seeking to recruit a postdoctoral student with a strong interest in understanding the mechanism and regulation of cytoplasmic eukaryotic protein synthesis. We have developed a highly purified, eukaryotic cell-free protein synthesis system and used it to determine the mechanism of initiating polypeptide elongation in an IRES- dependent system (Zhang et al., Elife 2016 5:e13429), measure the direct interaction of nonsense suppressor molecules with the protein synthesis machinery (Ng et al., ACS Med Chem Lett. 9:1285-1291), elucidate the mechanisms of elongation and termination, differentiate between the mechanisms by which different nonsense suppressors stimulate readthrough of nonsense codons (Ng et al., PNAS 2021 118, e2020599118) and determine the precise mode of action of ataluren, the only nonsense suppressor currently in clinical use (Huang et al., Nature Comm. 2022 13: 2413). Our current efforts are focused on 1) determining the precise effects of epigenetic modification of mRNA and tRNA on polypeptide elongation and termination and 2) identifying new nonsense suppressors more potent than ataluren using high throughput screening (Ghelfi et al., 2023 Biomolecules, 13, 242) and determining which patients are most likely to benefit from nonsense suppressor treatment.
The successful applicant should be mechanistically oriented with expertise in biochemical and molecular biological approaches. Experience with steady-state and pre-steady-state kinetics is a plus.
Qualifications include a recent Ph.D. in biochemistry, chemical biology, molecular biology, or a related field and a strong interest in protein synthesis. Applicant must have a strong work ethic, communication & organization skills, and a willingness to think about and learn new methodologies as the projects evolve.
Interested applicants should send a cover letter and CV with contact information for three references to Barry Cooperman at cooprman@pobox.upenn.edu, (215) 898-6330.