Neurons result from a highly complex and unique series of cell divisions. For example, in fruit flies, the process starts with stem cells that divide into mother cells (progenitor cells), that then divide into precursor cells that eventually become neurons.
A team of the University of Michigan (U-M), spearheaded by Nigel Michki, a graduate student, and Assistant Professor Dawen Cai in the department of Cell and Developmental Biology in the Medical School and in Biophysics in the College of LS&A, identified many genes that are important in fruit flies' neuron development, and that had never been described before in that context.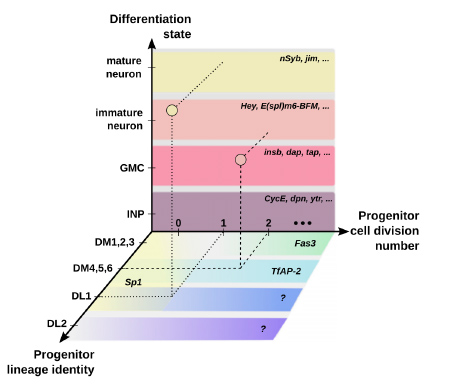 Figure to the left: Neurons in the fruit fly brain are made by passing through various differentiation states, and are segregated into unique subtypes based on the age and cell division number of their mother cell (progenitor). The complexity of this process is modelled in the diagram above. Different RNAs play a role in these neuron formation steps. This study identifies many RNAs that were not previously known to be involved in these processes, and helps us better understand how this complex neuron-generation process works at the molecular level.
Since many genes are conserved across species such as between fruit flies (Drosophila), mice, and humans, what is learnt in flies can also serve as a model to better understand other species, including humans. "Now that we know which genes are involved in this form of neurogenesis in flies, we can look for them in other species and test for them. We work on a multitude of organisms at U-M and we've the potential to interrogate across organisms," explains Michki. "In my opinion, the work we did is one of the many pieces that will inform other work that will inform disease," adds Michki. "This is why we do foundational research like this one."
Flies are also commonly used in many different types of research that might benefit from having a more comprehensive list of the fly genes with their associated roles in neuron cell development.
[Read more…] about U-M RNA scientists identify many genes involved in neuron development