Nobel Prize Awarded to 2024 RNA Symposium Speaker Drew Weissman
The Nobel Assembly at the Karolinska Institutet has today decided to award the 2023 Nobel Prize in Physiology or Medicine jointly to Katalin Karikó and Drew Weissman. 1 Read the full press release.
Drew Weissman, M.D., Ph.D., will be featured as a keynote speaker at the Center for RNA Biomedicine's 8th annual RNA Symposium in March, 2024 at the University of Michigan. He currently serves as Director of the Penn Institute for RNA Innovation, and is a leading physician and researcher at Penn Medicine.
The Nobel Committee recognized Dr. Weissman and Dr. Karikó for their groundbreaking research with dendritic cell inflammatory response to mRNA, and how base modifications both reduced inflammatory responses and increased protein production – essentially paving the way for rapid development of base-modified mRNA vaccines to combat the SARS-CoV-2 virus, or COVID-19.
As Co-Director of the Center for RNA Biomedicine Nils Walter points out, "The unexpectedly swift emergence of life-saving mRNA vaccines was based on many prior decades of dedication by a few visionary researchers, two of whom were honored today. This advent poises RNA therapeutics to rapidly realign the pharmaceutical and biotech industries and take over much of the current biologics market, justifying a Nobel prize to be given now."
The implications of this historic bestowment of the Nobel Prize to RNA researchers are far-reaching. The endorsement not only underscores the significant contribution made by RNA discoveries on a global scale to greatly mitigate a raging epidemic, but more than likely ensures that much-deserved attention and subsequent funding are directed toward RNA therapeutics – now more than ever poised to become the future in treating disease.
"The groundbreaking work by Drs. Kariko and Weissman is making the RNA therapeutic revolution in medicine possible. Walter Isaacson, the author of the book, "The Code Breaker," suggested that the CRISPR and RNA therapeutic revolution that we are now standing in front of, will be a thousandfold more beneficial to mankind than the digital revolution. The Nobel committee in Stockholm appears to agree," asserts Mats Ljungman, Co-Director, Center for RNA Biomedicine.
Watch the Announcement as it Happened Live
2024 RNA Symposium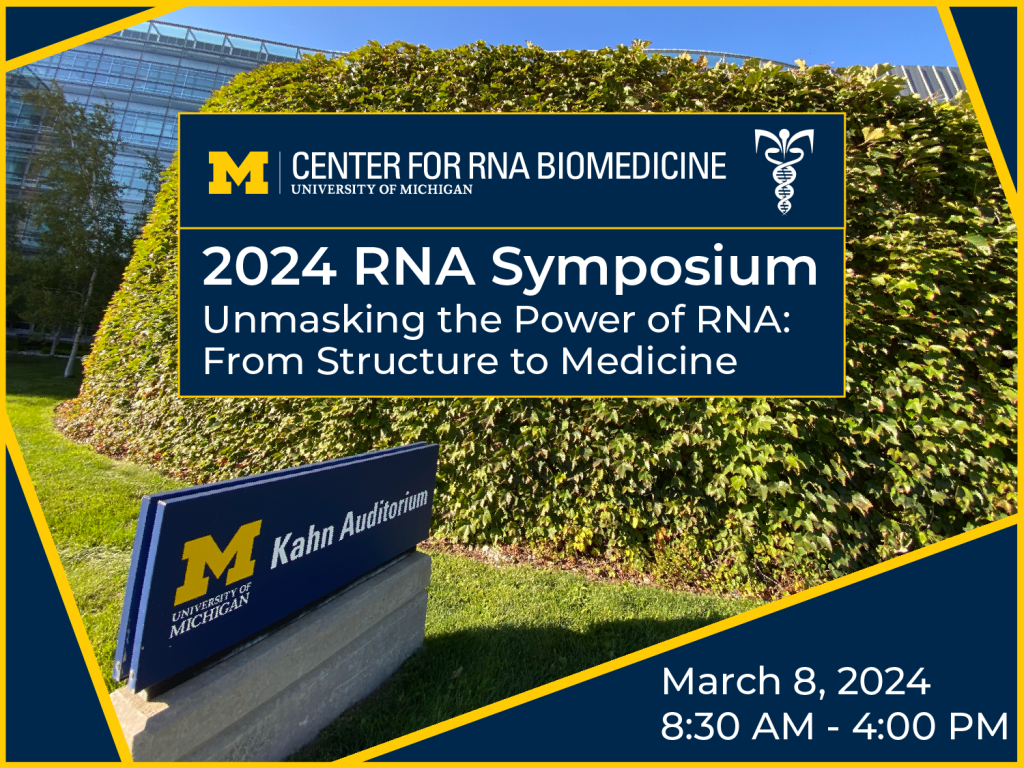 "Unmasking the Power of RNA: From Structure to Medicine."

The 8th annual symposium will take place on Friday, March 8, 8:30 a.m. – 4:00 p.m. in the A. Alfred Taubman Biomedical Science Research Bldg., Kahn Auditorium at 109 Zina Pitcher Place in Ann Arbor, Michigan.

Speakers:
Drew Weissman, M.D., Ph.D., University of Pennsylvania
Victoria D'Souza, Ph.D., Harvard University
Brenton R. Graveley, Ph.D., University of Connecticut
Leemor Joshua-Tor, Ph.D., Cold Spring Harbor Laboratory
Peter Todd, M.D., Ph.D., University of Michigan
Registration opens December 4, 2023. Save the date!
Press release. NobelPrize.org. Nobel Prize Outreach AB 2023. Mon. 2 Oct 2023. <https://www.nobelprize.org/prizes/medicine/2023/press-release/>
Prize announcement. NobelPrize.org. Nobel Prize Outreach AB 2023. Mon. 2 Oct 2023. <https://www.nobelprize.org/prizes/medicine/2023/prize-announcement/>