M-RNA therapeutics at the University of Michigan
An initiative to make the University of Michigan a world leader in RNA therapeutics,
spearheaded by the Center for RNA Biomedicine and the Biointerfaces Institute
Fueled by the COVID-19 mRNA vaccine success and the recent Nobel Prize in Chemistry for the discovery and elucidation of the bacterial CRISPR systems that can be harnessed for genome editing, RNA therapeutics has garnered considerable interest from academia, the pharmaceutical industry, and the public at large. To capitalize on this great momentum, the Center for RNA Biomedicine and the Biointerfaces Institute plan to leverage the strength of University of Michigan (U-M) research in RNA biomedicine and nanoparticle sciences to build a world-class resource that will convert U-M foundational research innovations into RNA-based clinical treatments.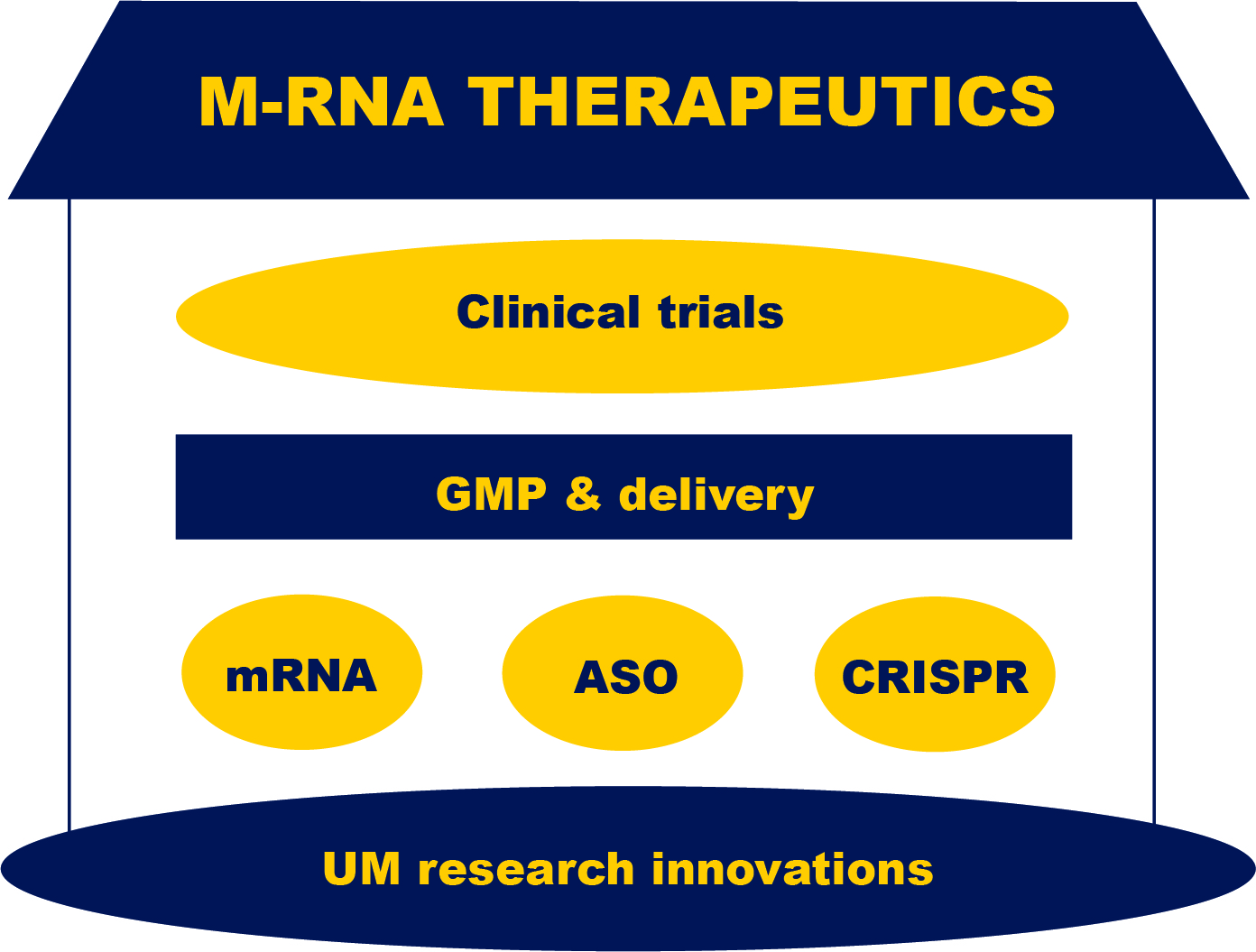 Together, we envision establishing a pipeline of RNA therapeutics reaching from the research lab to the clinic in five to ten years. Our therapies will include mRNA for vaccines against a multitude of diseases, antisense oligonucleotides (ASOs) for the suppression of undesired genes, and CRISPR for genome editing of defective genes and for precision targeting of cancer cells. M-RNA Therapeutics will also offer these technologies for laboratory research such as gene knockouts and screens.
(Reprinted from RNA Translated 2021)
M-RNA Therapeutics requires the unmatched breadth of scientists at the U-M who come together and spark synergies rooted in their diverse areas of expertise, skills, and interests. Fostering and supporting this community is at the heart of the Center for RNA Biomedicine's mission. "With the inauguration of the Center for RNA Biomedicine in 2016, we anticipated the enormous potential that therapies based on either using RNA as a drug itself or targeting it with a drug would have in the future. The world has finally caught up with us, and we are now seeking to further enhance our capabilities through M-RNA Therapeutics," says Nils Walter, co-Director of the Center and the Francis S. Collins Collegiate Professor of Chemistry, Biophysics and Biological Chemistry, named after a former faculty of the University of Michigan and current champion of mRNA vaccines as Director of the National Institutes of Health.
The Biointerfaces Institute is an important partner for us to spearhead M-RNA Therapeutics, connecting biomedicine with engineering and translating biologics into deliverable drugs. Joerg Lahann, Wolfgang Pauli Collegiate Professor of Chemical Engineering, Director of the U-M Biointerfaces Institute and Member of our Strategic Advisory Board, shares a vision where biomedicine and engineering can and must come together to tackle these challenges: "I foresee many areas of partnership as we study nucleic acids for delivery, as novel delivery platforms, and as technologies for immunotherapy. Together, we can drive this research at U-M, and we need it as a scientific field, as a research University, and as a nation."
A recent landmark study published in The New England Journal of Medicine describes a clinical trial where CRISPR mRNA was directly injected as lipid nanoparticles into the blood of patients suffering from a devastating condition driven by the overexpression of a disease-causing gene in the liver. "This study shows that this type of delivery was safe and that it successfully reversed the symptoms of these patients. This opens the door for the treatments of thousands of genetic human syndromes using nanoparticle delivery of CRISPR. With M-RNA Therapeutics, Michigan Medicine would have the opportunity to be a leader in this exciting and rapidly emerging field," explained Mats Ljungman, Professor of Radiation Oncology and co-Director of the Center for RNA Biomedicine.
To build M-RNA Therapeutics into a world-leading effort, we plan to leverage existing resources to hire additional leaders in this field while fundraising to rapidly seed new projects and provide the necessary infrastructure. Recruitment of faculty in RNA therapeutics is already actively ongoing through support from the University's Biosciences Initiative to the Center for RNA Biomedicine. We are also lobbying to house M-RNA Therapeutics and core faculty at a joint location on campus.
We are currently working to partner with biomedical and pharmaceutical companies, fundraise through philanthropy, and submit proposals for federal funding. M-RNA Therapeutics is thus poised to become a vibrant innovation hub with state-of-the-art technologies that will propel the translation of RNA-based research ideas into clinical therapies.