Advancing Basic RNA Biosciences into Medicine
Friday, March 30, 2018  8:30am – 4:00pm
 University of Michigan, Biomedical Research Science Building, 109 Zina Pitcher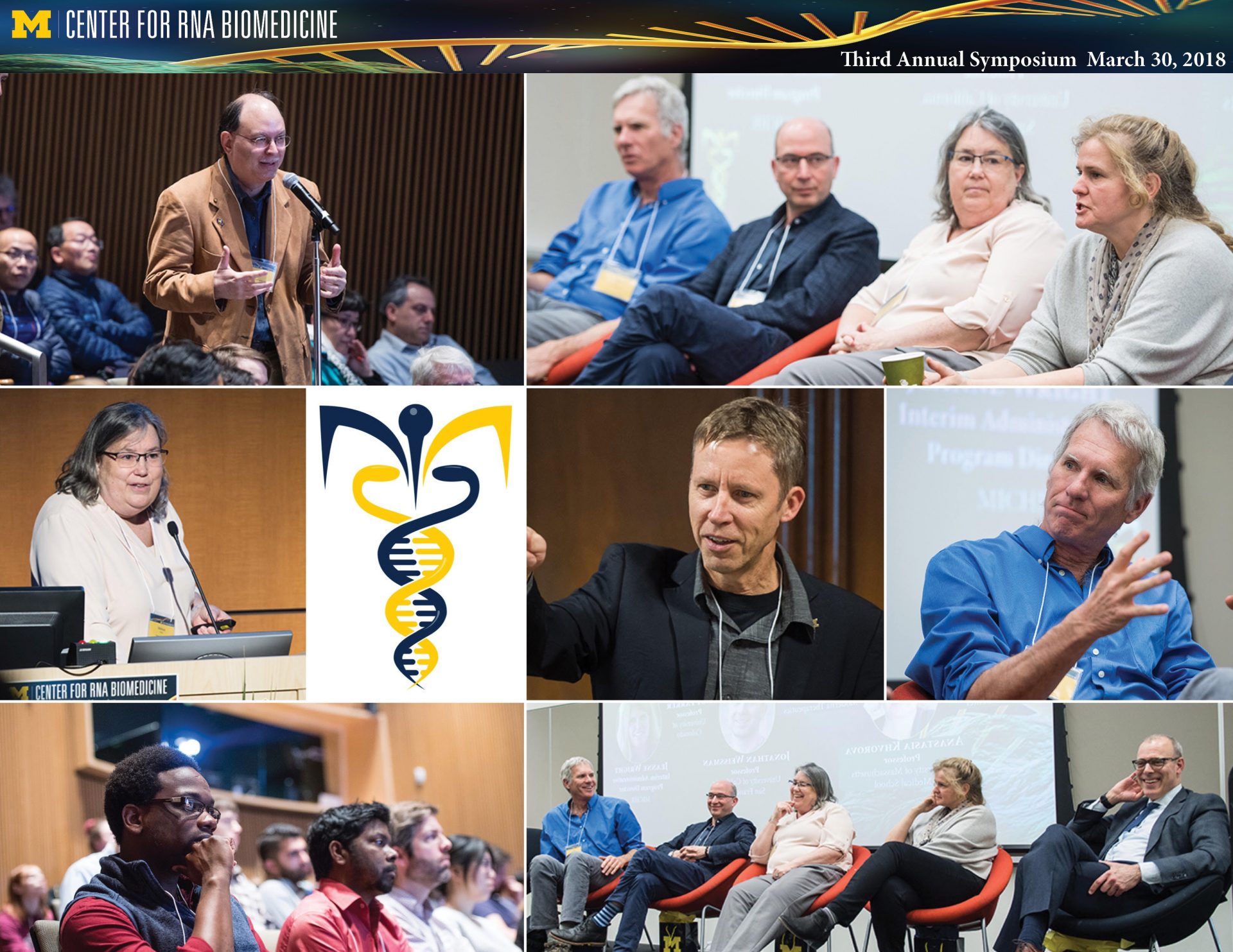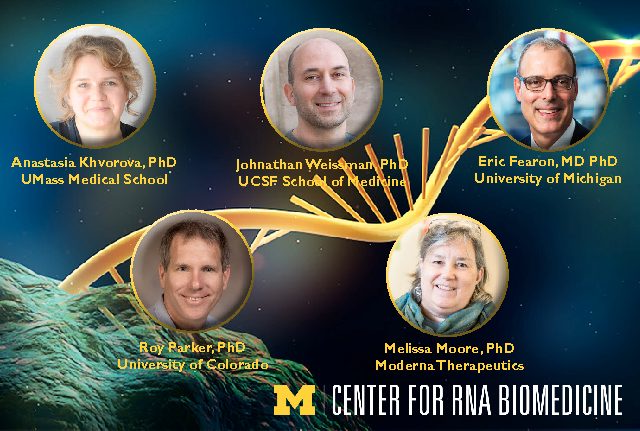 The Center for RNA Biomedicine Symposium brings together national leaders of the scientific, medical and engineering communities working on recent advances of our understanding of RNA. It will provide a means of exchanging new ideas across disciplines, spurring new collaborations across nationwide while supporting a rapidly growing RNA community at the University of Michigan.
Our educational objective: to provide the latest information on how RNA molecules impact cellular function in health and disease. After this symposium, participants will be able to apply advanced knowledge of genetic testing and therapies to patient care for diseases involving RNA dysregulation.
We expect that 200-300 participants from across the country, including funding decision makers and potential donors interested in investing in our RNA center at Michigan, will engage with each other and the scientific community on campus on a range of topics involving RNA. This symposium is open to University of Michigan clinicians and research scientists, as well as other primary care practitioners and public health scholars interested in the most recent discoveries regarding the role of RNA in health and disease.
Agenda - Friday, March 30, 2018
8:00am
-
8:30am
Coffee
On-Site Registration
8:30am
-
8:40am
Welcome & Introductions:
Martin Philbert, PhD, Dean, School of Public Health, Provost and Executive Vice President for Academic Affairs, Professor of Toxicology

8:40am
-
9:25am
 Keynote 1:

Melissa Moore, PhD
Moderna Therapeutics 
"RNA as Medicine"
9:25am
-
9:35am
Data Blitz 1:
Yan Zhang, PhD
 Assistant Professor, Biological Chemistry
 "Programmable RNA Recognition and Cleavage by N. meningitidis CRISPR-Cas9"

9:35am
-
10:20am
Keynote 2:
 
Eric Fearon, MD, PhD
University of Michigan Comprehensive Cancer Center
 "Genetic Models of Colorectal Tumorigenesis"
10:20am
-
10:30am
Data Blitz 2
2018 RNA Pilot Grant Awardees:
Mats Ljungman, PhD
Associate Professor, Radiation Oncology and Environmental Health Sciences
and
Maria Castro, PhD
R. C. Schneider Collegiate Professor of Neurosurgery, Professor, Cell and Developmental Biology
"Identification of Novel Glioblastoma-associated lncRNAs"


10:30am
-
10:45am
Coffee Break
10:45am
-
10:55am
Data Blitz 3:
Marissa Cloutier, MPH
Graduate Student, Kalantry Lab
" Differential Roles of Xist RNA vs. Xist DNA in X-chromosome Inactivation"


10:55am
-
11:40am
Keynote 3: 

Jonathan Weissman, PhD
University of California, San Francisco
 "Monitoring Translation in Space and Time with Ribosome Profiling"
11:40am
-
11:50am
Data Blitz 4:
Adrien Chauvier, PhD
Postdoctoral Fellow, Walter Lab
"Co-transcriptional Folding of a Riboswitch Controls the Fate of the Transcriptional Machinery"


11:50am
-
12:00pm
Data Blitz 5
2018 RNA Pilot Grant Awardees:
Sami Barmada, MD, PhD
Angela Dobson Welch and Lyndon Welch Research Professor, Assistant Professor, Neurology
and
Claudia Figueroa-Romero, PhD
Research Investigator, Program for Neurology Research & Discovery, Biological Chemistry
"Abnormal RNA Stability Impacts Ribosomal and Mitochondrial Function in Amyotrophic Lateral Sclerosis"


12:00pm
-
1:00pm
Box Lunch
with Speakers, Faculty and Students (or on your own Click here for nearby lunch options)
1:00pm
-
1:10pm
Welcome Back & Introduction :
Bishr Omary, MD, PhD
 Chief Scientific Officer of Michigan Medicine, Professor, Molecular & Integrative Physiology, H Marvin Pollard Professor of Gastroenterology Professor, Internal Medicine
1:10pm
-
1:55pm
Keynote 4:
Roy Parker, PhD
 University of Colorado
 "RNP Granules in Health and Disease"
1:55pm
-
2:05pm
Data Blitz 6
2018 RNA Pilot Grant Awardees:
Akira Ono, PhD
Assosiate Professor, Microbiology and Immunology, Medical School
and
Sarah Veatch, PhD
Associate Professor of Biophysics and Physics
"Identifying Sites of HIV-1 RNA Translation"

2:05pm
-
2:40pm
Keynote 5:
Anastasia Khvorova, PhD
 University of Massachusetts Medical School
 "Expanding the Chemical Diversity of Therapeutic Oligonucleotides"
2:55pm
-
3:55pm
Coffee & Panel Discussion:
"Advancing RNA Biosciences into Medicine"
Panel: Anastasia Khvorova, Eric Fearon, Jonathan Weissman, Melissa Moore, Roy Parker, Jeanne Wright, MICHR
Moderated by: Bradley Martin, PhD, Fast Forward Medical Innovation
3:55pm
-
4:00pm
Closing
Add to your calendar: