COVID-19 – Supplies needed
Dear Colleagues,
Michigan Department of Health and Human Services is in specific need of viral RNA extraction supplies. If you have some, please reply to this email and we will coordinate pick up/drop off.
Normally they use
QiaAmp Viral RNA Mini kits
Roche Compact viral RNA
eMag
EasyMag kits
Also needed: TaqPath polymerase.
Please let us know if you have such items by contacting 
Martina Jerant
 to organize pick up/drop off.
Thank you for your collaboration.
Keep safe and healthy.
Nils Walter and Matts Ljungman
Co-Directors, University of Michigan Center for RNA Biomedicine
---
We are rescheduling our event as originally planned,
for Friday, March 26, 2021.
SAVE THE DATE!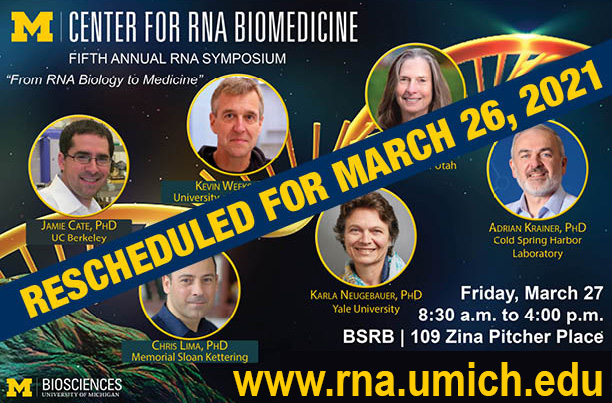 Featuring Keynote speakers:
Karla Neugebauer, PhD, Yale University
Kevin Weeks, PhD, University of North Carolina
Brenda Bass, PhD, University of Utah
Chris Lima, PhD, Memorial Sloan-Kettering
Jamie Cate, PhD, UC Berkeley
Adrian Krainer, PhD, Cold Spring Harbor Laboratory
---
The University of Michigan Center for RNA Biomedicine
Inaugural Symposium Video Highlights