by Elisabeth Paymal
One of the hallmarks of ovarian cancer is genomic instability resulting in gain and loss of DNA throughout the entire genome, including many microRNAs (miRNA). Dr. DiFeo, Ph.D., Associate Professor of Pathology and of Obstetrics and Gynecology at Michigan Medicine, and her team, research which miRNAs are involved in the early stages of ovarian cancer. "A lot of research has looked at microRNAs in late stages of cancer, and we're interested in what happens at the early stages of ovarian cancer," explains DiFeo.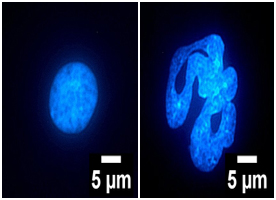 Their results, published in Nature Communications, show hope that microRNAs could be used as biomarkers for tumor development. If a miRNA regulates several significant pathways involved in ovarian cancer, it could make a great biomarker to detect early stages of ovarian cancers as well as a therapeutic target to treat recurrent disease. Currently, because the symptoms are vague, 85% of ovarian cancers are detected at stage 3 and 4 while early detection is essential to cure success.
 This photograph shows the nuclei of normal fallopian tube cell (left) and miR-181a expressing fallopian tube cell (right) highlighting that the expression of miR-181a converts the normal circular nuclei to a abnormal non-circular nuclei that is prone to nuclear rupture and hallmark of cancer.
[Read more…] about miR-181a, a microRNA that regulates ovarian cancer cells