Join the RNA Student and Postdoc Council!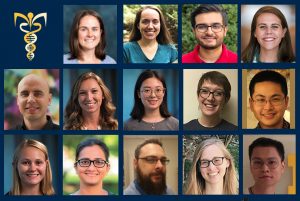 The U-M Center for RNA Biomedicine is looking for U-M Graduate Students and Postdocs to join its RNA Student & Postdoc Council for the 2022-23 academic year.
The objective of the council is to work collaboratively across disciplines, build a scientific community, and generate ideas and activities that advance RNA research and education across the University of Michigan.
This is a great opportunity to develop and implement ideas that enhance your curriculum and experience at U-M. The Council is also an excellent platform to further engage with peers, mentors, and faculty from the RNA research community.
The Student & Postdoc Council was founded in 2019. All members are volunteers and represent the various schools and colleges at U-M in the RNA sciences. Previous RNA Council activities include hosting a monthly RNA journal club, creating a directory of expertise: The RNA Skill Share, supporting a RNA Scholar Exchange program, as well as outreach and networking events such as a Pub Science night, The RNA Function, and UMMNH Summer Camp. The Council is awarded an annual grant from The RNA Society to support its activities.
Expectations of RNA Council members
Commitment of one academic year, renewable
2hrs service/month (1hr meeting and 1hr follow-up action based on meeting outcomes)
>> To join, e-mail Martina Jerant at mjerant@umich.edu by Friday, July 29, 2022 <<