The Center for RNA Biomedicine is offering Grant Sprints. For more information, please contact Martina Jerant.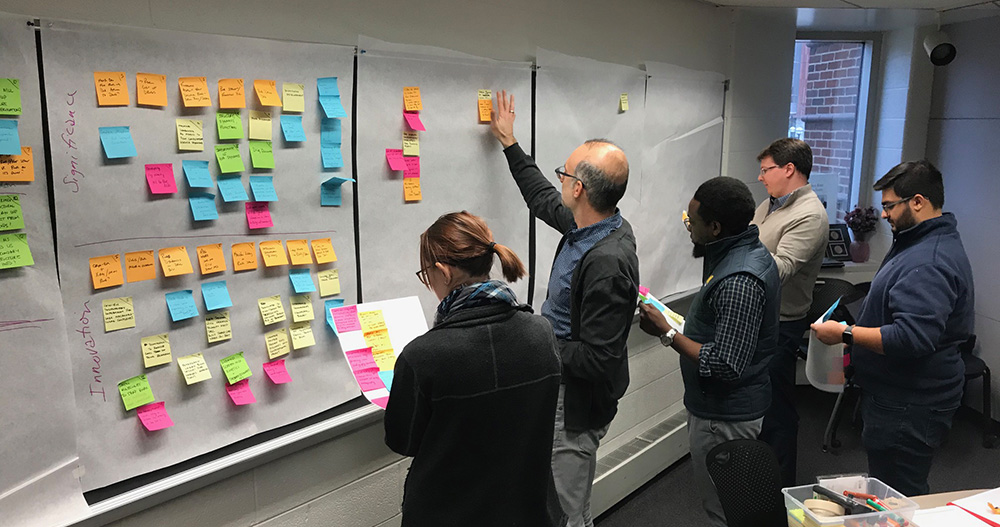 Photo: Grant Sprint at the U-M Center for RNA Biomedicine, October 2019, clockwise from left to right, Elizabeth Tidwell, Markos Koutmos, Aaron Frank, Brandon Ruotolo, Varun Gadkari.
Curiosity and passion lead scientists to their field of research, but a good idea, even a great one, is not enough. Funding is crucial to the future of any research, and the stakes are so high that grant writing can turn into a burden and a source of anxiety. How then can grant writing be an exciting process that keeps innovation and creativity flowing, while responding to stressful funding needs?
Five years ago, Ann Verhey-Henke, Strategic Director of the University of Michigan (U-M) Center for Socially Engaged Design (C-SED) and then at the School of Public Health, started meeting with scientists who were struggling to infuse innovative and novel ideas into their collaborative grant proposals, and became determined to help them find a better way forward. She studied their journey of being a faculty member, interviewed them about their experience in academia, and listened to the dreams they had when they were just starting out. "There is a large disconnect between a faculty member's deep desire to discover and contribute to society, and what they're incentivized to do," explains Verhey-Henke. "In collaboration with U-M faculty, we developed a method to catalyze faculty teams, building in diverse perspectives and ideas before the writing begins. What we have witnessed is a reenergizing experience that builds a collective excitement to work together toward the discovery of new knowledge and create impact."
Verhey-Henke and her team looked outside of academia for solutions and were inspired by the Sprint method developed by Google Ventures, socially engaged design, and group facilitation techniques. They identified fundamental principles that can be applied in the academic context and iterated until they had a basic method that was easily adaptable for writing grant proposals that they named Grant Sprints.
By creating a space and time for innovative thinking, Grant Sprints facilitate the concept, ideation, and writing process while delivering strong grant proposals. The facilitators set clear working guidelines, establish a consensus, and create an energizing environment. One of the rules is to come to the session with an open mind, which is often a challenge for faculty who are highly trained to find flaws in logic and have focused their research on a specialized niche. Through the active listening of participants to each other, the facilitators lead the group through a divergent and convergent process, first collecting spontaneous ideas and then clustering them in order to foster collaborative insights and cognitive excitement. Within the Grant Sprints framework, there is the flexibility to accommodate the needs and dynamics of individual groups, and each sprint is tailored to its participants. Grant Sprints range from a few hours to three half-days, include a writing exercise, and result in a rough draft of a grant proposal with the next steps clearly defined and tasks assigned. The facilitators' experience and skills have proved essential to effectively practice the art of facilitation and to lead Grant Sprints.
Faculty participants overwhelmingly respond with enthusiasm to these sessions. A 2018 survey showed that 98% of Grant Sprint participants would repeat the experience, and 92% of them would recommend it to their colleagues. Participants have reported feeling "energized," "inspired," and "productive." From two 2019 workshops the U-M's Center for RNA Biomedicine (CRB) organized, participant testimonials reported that the process helped them with the blank page block, and with streamlining thoughts. One participant stated: "Our grant is now focusing on a direction that we didn't expect. Through our discussions, multiple ideas for new experiments emerged. I also learned a lot more about what my collaborators are able to accomplish and we can all leverage this shared expertise to improve our own work. Finally, everyone bought into the now-joint mission of writing our first grant together, so no one person has to do all the heavy lifting."
"The process is amazingly efficient and great for encouraging original conversations and innovative collaborations," says Nils Walter, Francis S. Collins Collegiate Professor of Chemistry, Biophysics, and Biological Chemistry, LSA Chemistry and co-director of the Center for RNA Biomedicine who has championed Grant Sprints. "We believe that there is tremendous value in this method, and we've decided to offer Grant Sprints to all our Center members. We expect that these Sprints will further stimulate our scientific creativity, nurture our sense of belonging as scientists, and allow us to share our common interests and passion for RNA discoveries. In my view, an entire 'ecosystem' or, even better, a structured pipeline can be envisioned that spans early ideation, team formation, and focused refinement, all the way to success in proposal writing. To initiate this vision, we're thrilled to collaborate with Ann Verhey-Henke and UMOR on addressing this deeply felt need of the faculty in a competitive grant environment."
The U-M Office of Research (UMOR) also has started offering facilitated brainstorming sessions and skills-building workshops in their recent expansion into research development, especially in support of interdisciplinary proposals and initiatives that span U-M Colleges and Schools. Jill Jividen, Ph.D., newly appointed Director of Research Development, spearheads these efforts, developing services to connect faculty to partners, resources, and funding opportunities. "In addition to having a central administrative role, UMOR wants to offer forms of support to U-M researchers broadly," explains Jividen. "The Research Development team will help UMOR become a more service-oriented office that will benefit all of campus."
Drew Bennett, Associate Director of Licensing, Software, Mobile, and Digital Technologies, U-M Office of TechTransfer, shares the general enthusiasm for Grant Sprints. "This approach is innovative in its adaptation to the academic context, and we're very supportive of its adoption across the University. It's great to see so much interest in these workshops, and we expect very positive outcomes from these."
Grant Sprints workshops are free and now offered by the Center for RNA Biomedicine as part of their Biosciences Initiative. To register, at least one of the participants must be a Center member, some of the participants must have already been invited to join the team, and a general research topic must have been identified.
For more information, visit the Center's Grant Sprints page or contact Martina Jerant.