RNA Featured Researcher – Maria G. Castro – Neurosurgery and Cell & Developmental Biology

Maria G. Castro, Ph.D.
Professor, Neurosurgery and Cell and Developmental Biology
Medical School
Tweeter: @castro2355_mg
Research Gate: Maria G. Castro
LinkedIn
Lab Website
Google Scholar: Maria G Castro
Dr Castro's research program focuses on epigenetic regulation of brain cancer progression, uncovering the role of oncometabolites in the tumor microenvironment.  Her program also aims to develop immunotherapies for primary and metastatic brain cancer, studying immune-biology mechanisms leading to clinical implementation. Our innovative work has led to an FDA approved immune-mediated gene therapy Phase 1 clinical trial for malignant brain cancer which recently completed accrual at the University of Michigan.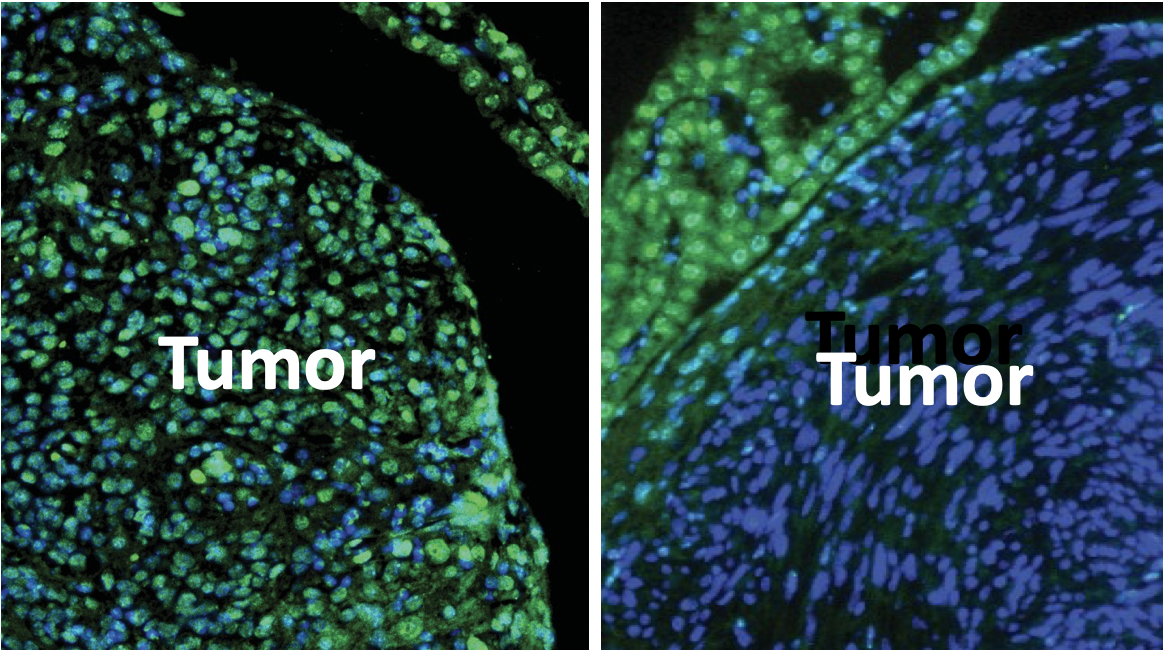 Sleeping Beauty mediated genetically engineered mouse models of brain tumors (glioma). On the left, we see in green expression of ATRX, a chromatin remodeling protein, which acts as a tumor suppressor, within the nucleus of the glioma cells. We used small hairpin RNAs to inhibit the expression of ATRX within the tumor cells, see lack of green immunofluorescence within the tumor, stained with DAPI in blue, in the right panel. This rendered the tumors more aggressive, shortening animal survival (for details see PMID: 26936505; PMCID:PMC5381643; DOI: 10.1126/scitranslmed.aac8228).
• What is the role of RNA in your research?
RNA biology constitutes a big part of my research program. From using short hairpin RNAs to silence oncogenic genes that drive malignant brain cancer, which are then used to generate genetically engineered mice, which serve as in vivo models to study the biology of these tumors utilizing "omics" tools to uncover new druggable therapeutic targets; to using these models as preclinical platforms to test novel therapies, prior to translating them to the clinical arena as Phase I clinical trials. We are also using siRNAs delivered using nanoparticles to block transcription factor hubs which mediate tumor progression.
• Who/what brought you to science? 
My mother, who went back to study Pharmacy when I was 6 years old! This was my first brush with organic chemistry and with formulas. I was fascinated by the shapes of the organic compounds, which I thought looked like beehives. It got even better, when I got to help my mom making what I thought were magic potions that made everyone better, at her compounding pharmacy in a small neighborhood in the outskirts of Buenos Aires, Argentina.
• What brought you to the University of Michigan?
The excellence of its research portfolio, the wealth and breadth of ongoing scientific enterprise, the collaborative nature of colleagues and the fact that it is a public university! I also fell in love with its leafy campus and Gothic architecture.
• What advice would you give to students who'd like to get more involved in research?
These are unprecedented and disconcerting times, during the COVID-19 pandemic, with all the restrictions imposed on performing wet lab based research and in person learning and training. But, this shall pass, and we will all see better times! So, my message is, do not desist, keep searching for a lab that inspires you and if the door is closed to in-person research right now, request to be part of their lab meetings or journal clubs. Do not give up! You will get there in the end.
• Are there any opportunities for students to engage in your projects, currently or in the future?
Yes, always happy to mentor new students!
What skills would they need?
Passion for science or wanting to discover if science is for them, creativity, collegiality, attention to details, dedication, drive for learning new things, good communications skills, both verbal and written.
What could they expect to learn?
To read scientific papers critically, to be able to formulate interesting scientific questions. To be able to design experiments to prove or disprove a hypothesis, to be able to interpret the results obtained and trouble shoot if experiments do not work out.
• What profession other than your own would you enjoy, or what is your favorite hobby? 
Immigration or Corporate Lawyer to bring about more justice in this world! My favorite hobby is interior design.