Single Molecule Analysis in Real-Time (SMART) Center

The SMART (Single Molecule Analysis in Real-Time) Center is an NSF-seeded, shared-use facility providing university researchers with single molecule detection and manipulation tools to track and analyze biomolecules with unprecedented detail. The SMART Center provides access to state-of-the-art instrumentation, including single molecule spectroscopy and imaging, laser tweezers, and atomic force microscopy; as well as experienced support in experimental planning and analysis.
We would also be happy to give your group a short demonstration of our capabilities and discuss potential applications.
Services Offered
Single molecule fluorescent imaging and tracking
Fluorescence lifetime imaging
Fluorescence correlation spectroscopy
Force spectroscopy
Atomic force microscopy
Optical tweezers
Assistance with
Experimental planning
Data Acquisition
Data Analysis
Equipment Provided
TIRF / HILO fluorescence microscope with multicolor EMCCD cameras
ISS Alba time-resolved confocal microscope
AFM Workshop TT-AFM atomic force microscope
MiniTweezers optical tweezers
Single Particle Nanomanipulator optical tweezers + fluorescence microscope
Image analysis and particle tracking software
Areas of expertise
Single molecule techniques
Fast high-resolution fluorescent imaging
Single particle fluorescent tracking
Fluorescence lifetime imaging
Force spectroscopy
Experimental planning
Single molecule data analysis
Training
Who we serve
University of Michigan and external academic & commercial researchers in all scientific areas, with an added emphasis on RNA Biomedicine.
Contact
Damon Hoff
Phone: (734) 763-5449
Website
SMART Center Brochure
Location
Room 3080 Chemistry
930 N. University Avenue
Ann Arbor, MI 48109
College: LSA, Biophysics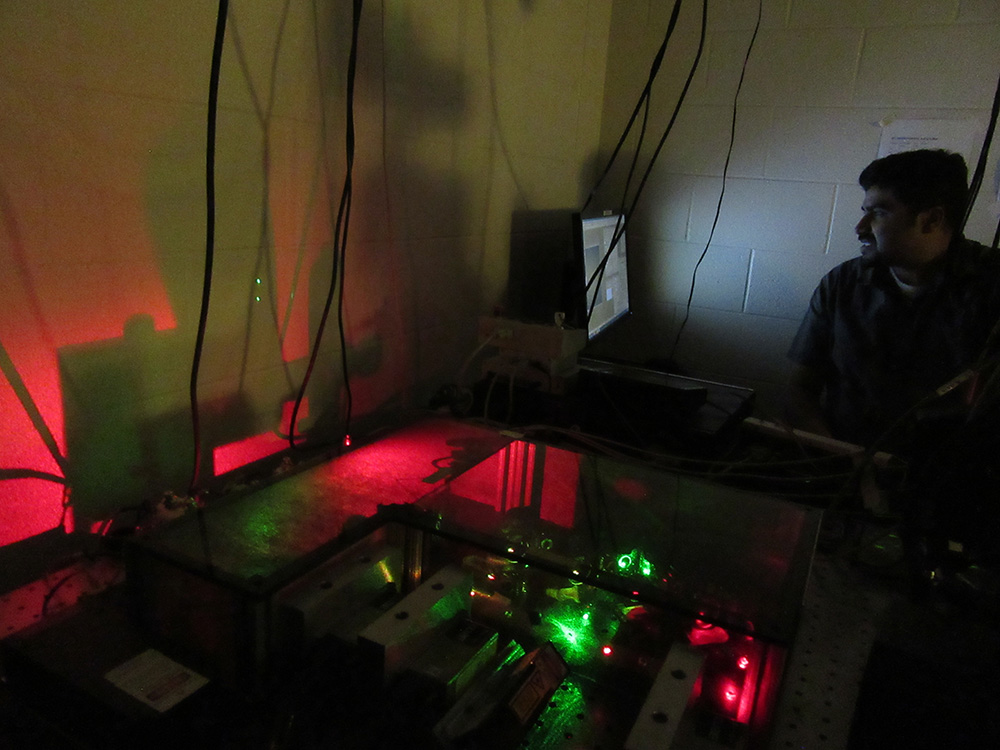 Photo: Dr. Pitchiaya in the SMART lab using lasers