U-M Center for RNA Biomedicine hosts the RNA Collaborative Seminar Series, May 6, 2020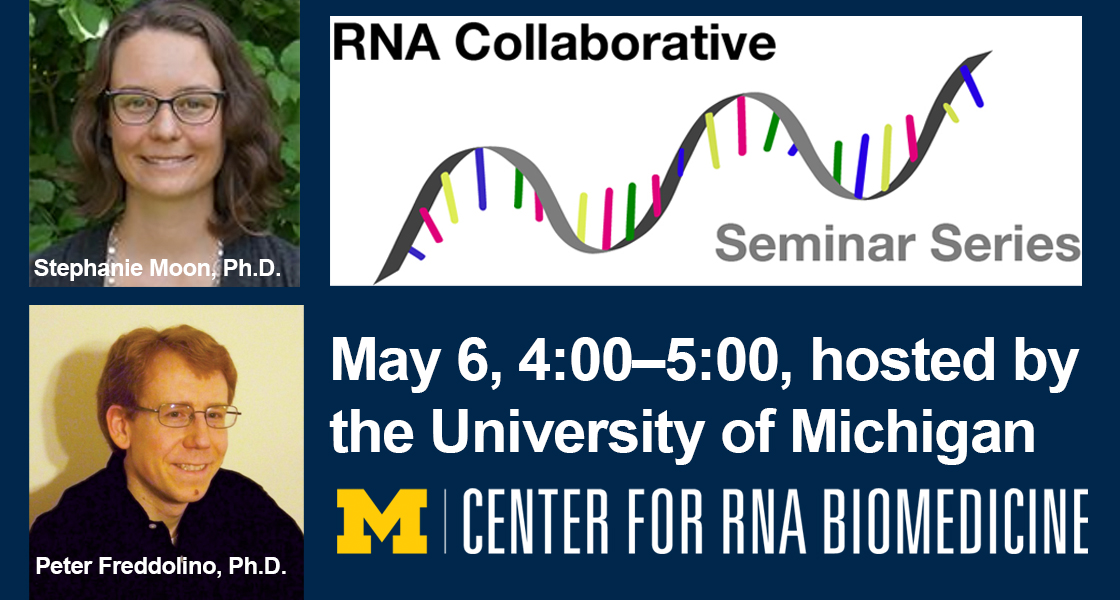 Launched in April 2020, the goal of the RNA Collaborative seminar series is to cross-promote RNA research to strengthen and connect the RNA scientific community. Proposed by the University of Michigan (U-M) Center for RNA Biomedicine, this initiative received great enthusiasm from seven RNA research centers. The group was quickly joined by two more centers and endorsed by The RNA Society: "Your multi-institutional seminar series is a fantastic idea, and I am not surprised that it has generated interest and excitement," wrote Kristian Baker, CEO of The RNA Society.
The U-M Center's co-directors are also very enthusiastic about this initiative. Mats Ljungman acknowledges that "In these trying times it is important to move science forward. This is an excellent example of bringing together RNA scientists from around the US and Canada to showcase some of the community's great minds and scientific insights." As for Nils Walter: "It is ironic that a single-stranded RNA virus such as COVID-19 has helped bring our RNA community closer together. But that fact also makes us hopeful that science eventually will carry the day against this pandemic."
Each seminar is organized by one of the RNA Collaborative participants, on a rotating basis. Yale Center for RNA Science and Medicine hosted the first seminar on April 22. Sarah Slavoff, Ph.D., presented about the "Regulation of RNA decapping and phase separation by a human polypeptide," and Nadya Dimitrova, Ph.D., talked about "Long Noncoding RNAs in Cancer: What, Where and How?" Karla M. Neugebauer moderated the session (recording available here). It had a full house with 300 people, the maximum of participants allowed by the virtual setup.
The University of Michigan Center for RNA Biomedicine featured seminars on May 6 by Stephanie Moon, Ph.D., on "A link between translation quality control and mRNA targeting to stress granules;" as well as Peter Freddolino, Ph.D., about how "It's not the gene, it's the neighborhood: Effects of large-scale chromosomal structure on bacterial transcription," with Nils G. Walter moderating the event. The over 250 participants could effectively engage with the speakers through a Q&A chat. The recording of the seminar is available here.
The next seminar is hosted by The RNA Institute At Albany, May 20, 4:00­-5:00 pm. Speakers are Morgan Sammons, Ph.D., on "Regulatory paradigms controlling a core stress response" and Alan A. Chen, Ph.D., on "Simulating RNA folding pathways in 3D using sparse experimental constraints." The seminar will be moderated by Marlene Belfort, Ph.D.
The RNA Collaborative Seminar Series is organized by the RNA Centers of the following institutions: MD Anderson Center for RNA Interference and Non-Coding RNAs; Initiative for RNA Medicine, Harvard Medical School; RiboClub Sherbrooke, Québec; The RNA Institute, University At Albany; UMass Medical School, RNA Therapeutics Institute; University of Michigan Center for RNA Biomedicine; University of Rochester Center for RNA Biology; Yale Center for RNA Science and Medicine