RNA Faculty Spotlight – Sarah Keane, Biophysics and Chemistry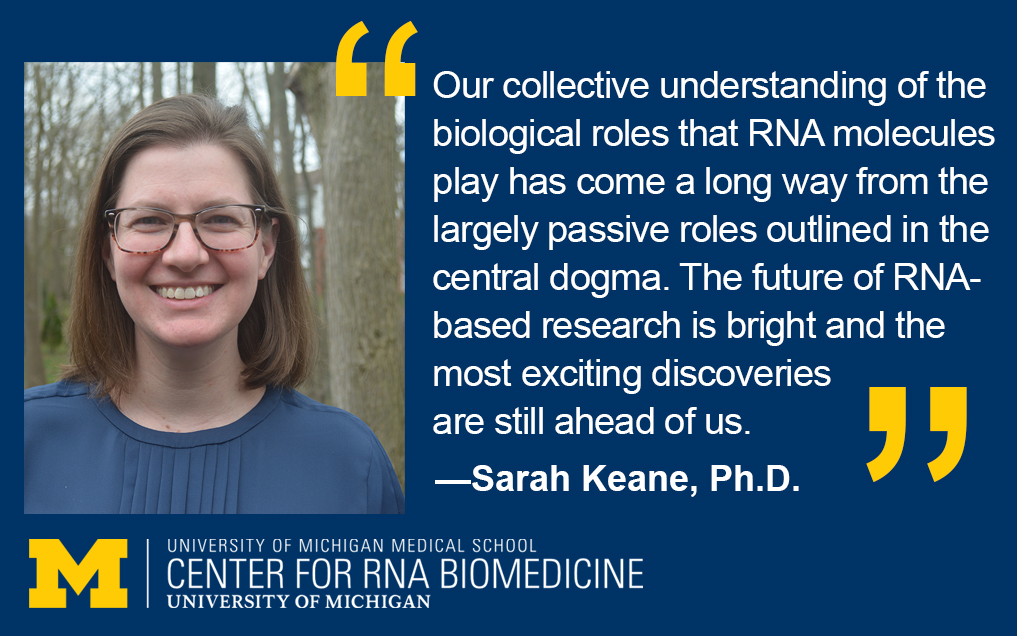 Sarah Keane, Ph.D.
Assistant Professor of Biophysics, William R. Roush Assistant Professor of Chemistry
Biophysics and Department of Chemistry
College of LSA
https://sites.lsa.umich.edu/keane-lab/
@KeaneLab
The Keane's lab is interested in understanding how RNA molecules fold and how their three-dimensional structures impact function. RNAs play a number of different regulatory roles in health and disease and my lab is focused on determining how changes in three-dimensional structure impact biological activity. Using NMR spectroscopy, in combination with other structural methods, we aim to determine structures of RNAs that have historically been considered unattainable.
What is the role of RNA in your research?
RNA is everything! My lab primarily focuses on RNA structural biology; however, we are also interested in studying RNA-protein and RNA-small molecule interactions.
Who/what brought you to science?
I've always loved science. My parents were instrumental in encouraging me to pursue these interests. I was also really fortunate to have great teachers in middle and high school who inspired me to study Chemistry in college.
What brought you to the University of Michigan?
I was drawn to Michigan in large part due to its vibrant RNA community. I have fantastic colleagues in both Chemistry and Biophysics and enjoy being able to interact with RNA Biomedicine faculty from across campus.
What advice would you give to students who would like to get more involved in research?
Identify areas of research that interest you. Don't shy away from topics and techniques that you don't have experience with, research is all about learning. Reach out to faculty whose work interests you to inquire about open positions. Be clear about what you hope to contribute to the lab and what skills you hope to have by the time you leave the lab.
Are there any opportunities for students to engage in your projects, currently or in the future?
YES! I'm always looking for talented undergraduate students, graduate students, and postdocs to join the lab. One of the great perks of being at the University of Michigan is the incredibly talented undergraduate and graduate students here.
What skills would they need?
Most members of my lab have backgrounds in chemistry, biochemistry, or biophysics. I always tell students that they don't need any specific scientific or experimental knowledge to join the lab – we will teach you how to collect and analyze data. When hiring a new trainee, I look for someone with a positive attitude, who is passionate about learning, and who is willing to push the envelope.
What other profession would you enjoy, or what is your favorite hobby?
I love to bake – cakes, cupcakes, cookies. I'm not sure that anyone would pay for my baking, so I don't think I'd try to make a career jump, but it is one of my favorite things to do with my kids.