RNA Faculty Spotlight – Andrew Ludlow, School of Kinesiology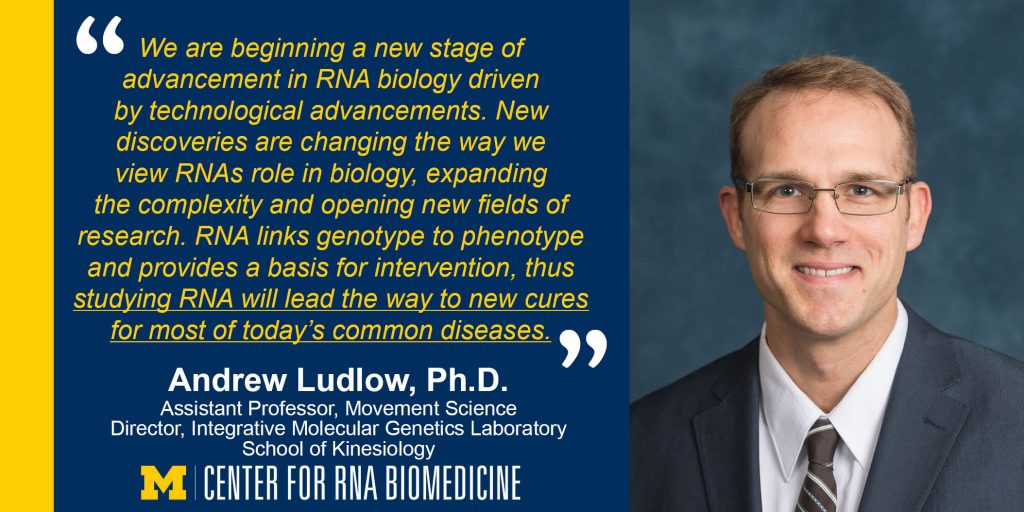 Andrew Ludlow, Ph.D.
Assistant Professor, Movement Science
Director, Integrative Molecular Genetics Laboratory
School of Kinesiology

Broadly, my laboratory studies telomere and telomerase biology. We are interested in the gene expression regulation of telomere maintaining genes, such as telomerase component hTERT. We focus on the gene expression regulation by alternative RNA splicing by studying deep intronic elements and the RNA binding proteins that bind these elements in diverse tissues and contexts such as in lung cancer and in cells/tissues following interventions (exercise, diet, and chemotherapy).
Visit Lab Website
What are your research interests? Broadly, I am interested in aging and cancer. My research focuses on telomere and telomerase biology. We seek to understand the maintenance of telomeres in stem cells and cancer cells and the impact of telomere shortening/DNA damage on gene expression. We focus on the role of alternative RNA splicing in telomere and telomerase biology in cancer cells and stem cells.
Who/what brought you to science? A deep curiosity and passion for learning how and why things work, particularly at the cellular level. I grew up an athlete interested in how the body and cells responded/adapted to stresses. I pursued research on human adaptation as an undergraduate and become hooked on solving complex problems ever since.
What advice would you give to students who'd like to get more involved in research? Find your passion. Pursue the science on topics that you love and are truly interested in. This requires having an open mind and being willing to try things to determine if you really enjoy them deeply or not. Practically speaking I would tell students to read about the research going on on-campus and find a topic you think you are interested in. Once you find a laboratory interesting to you, look up the recent research papers published from that laboratory. If you are still interested in that type of work, then contact the laboratory and see if there are volunteer positions and give it a try!
Are there any opportunities for students to engage in your projects, currently or in the future? YES! My laboratory is seeking motivated students willing to learn and work on various aspects of basic science research.
What skills would they need, and what could they expect to learn? Ideally, any wet lab experience or working with laboratory animals would be preferred, but not required. We have diverse projects so we can use lots of help. Depending on the students' interests they can expect to learn PCR, molecular cloning, animal handling, tissue processing, enzyme assays, working as part of a team, tissue culture, western blotting, southern blotting, and general laboratory skills (making buffers etc.).
What profession other than your own would you like to attempt?

Homesteading in the Alaskan frontier. I am fascinated by the do it all your-self attitude and self-reliance of homesteaders in the Alaskan wilderness.
Professional Adventure Racer/extreme endurance racer.
Explore my interest in human psychology in terms of elite/high level human performance in all walks of life (scientists, athletes, business, etc.).
Author that writes about the history of scientific discovery.