Connecting neuronal activity to RNA and bench to bedside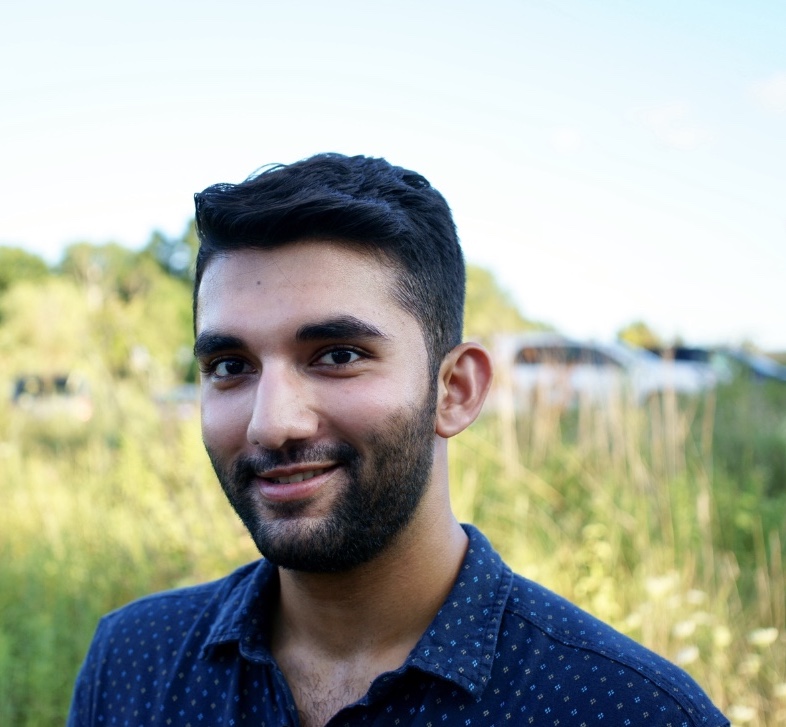 A Ph.D. dissertation is a huge accomplishment, resulting from four, five or more years of intense research and training. To become a Ph.D. is a remarkable challenge both scientifically and intellectually that requires a deep personal and emotional commitment. A doctoral defense is not only the culmination of years of hard work, but it also raises the question of "what's next for me?" after years on the schooling and training track.
On March 22, 2021, Ahmed Malik defended his Ph.D. thesis in Dr. Barmada's lab, Department of Neurology, University of Michigan Medical School. For him, the "what's next?" question finds answers in his passionate quest for knowledge and bioscience exploration. "There is so much to learn in school, and there is nothing else I'd rather be doing," he said only a few days after defending his Ph.D.
"There is so much to learn in school, and there is nothing else I'd rather be doing."
Malik is enrolled in the combined M.D.-Ph.D. program of the University of Michigan (U-M), one of the longest trainings offered at the university. When he joined U-M in 2014, he first did two years of classwork in the medical school as part of his M.D. training. Then he focused on the science behind neurodegenerative diseases and did his Ph.D. dissertation on an RNA-binding protein, Matrin-3, that plays a particular role in neurological diseases such as amyotrophic lateral sclerosis (ALS) and frontotemporal dementia (FTD). He is now getting ready to resume his M.D. training, while he is still debating between a specialization in neurology, psychiatry, or another clinical specialty.
U-M's strength in neurodegenerative diseases attracted Malik. In 2015, he contacted several faculty from the Center for RNA Biomedicine, including Dr. Barmada who invited him to join his lab in 2016. Malik expresses a lot of gratitude for Dr. Barmada's supportive mentoring.
In his lab, Malik found it valuable to study publications spanning the last thirty years that explored the basic biology and regulation of Matrin-3. State-of-the-art technology and the many discoveries in biosciences, including the linking of Matrin-3 to neurodegenerative disease, during the last 20 years allowed him to reconsider these publications and to expand their seminal findings. RNA in neurons presents specific spatial and temporal problems and Malik is particularly interested in the RNA-triggered responses to external stimuli. Degradation and localized translation of RNA are also still relatively unexplored areas of research and highly relevant to neurodegenerative diseases.
"Science is concrete, you just need to find the right answer."
Malik started college with no prior exposure to science, but he thought that he "wanted to be a doctor." He did his pre-medical undergraduate studies at the Indiana University-Purdue University Indianapolis (IUPUI) where he explored various fields while also doing some soul searching. There he joined a developmental bone biology lab working on Down syndrome and he fell in love with research. "It is concrete, you just need to find the right answer," he explains. He really enjoys feeling the edges of today's science and when he can't ask a question because no one has an answer for it yet.
As he graduated with a major in biochemistry, Malik knew that he was interested in molecular biology. He carefully explored a career as an M.D-Ph.D. by talking to peers and shadowing clinicians. Malik enjoyed establishing relationships with patients, and this human component added much meaning to his scientific curiosity. A summer program in neurodegenerative diseases was very exciting and confirmed his passion for a career that would connect scientific discoveries with helping people.
Malik moved from Pakistan to the US with his family at an early age. Outside of bioscience, he is interested in linguistics, and especially syntax. He is also passionate about history, and in particular about the past of the Punjab province where his family is from. Malik also greatly enjoys the town of Ann Arbor, with its restaurants and cultural offerings, as well as the outdoors and sports.