S. Moon and N. Walter receive the CZI Collaborative Pairs Pilot Project Award
ANN ARBOR, MI, AUGUST 19, 2020—"A pair" of scientists from the University of Michigan (U-M) Center for RNA Biomedicine receives the Chan Zuckerberg Initiative (CZI) Collaborative Pairs Pilot Project Awards.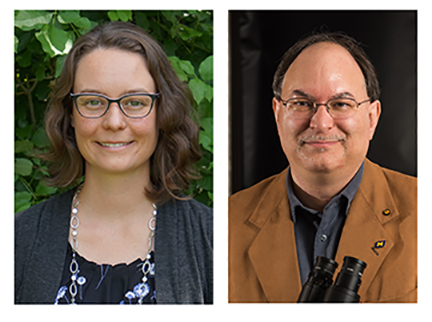 The U-M Center for RNA Biomedicine brought together two scientists for this highly competitive grant: principal investigator Stephanie Moon, Ph.D., Assistant Professor in Human Genetics, Medical School, and co-principal investigator Nils G. Walter, Dr. Ing., Francis S. Collins Collegiate Professor of Chemistry, Biophysics, and Biological Chemistry, and founding co-director of the Center for RNA Biomedicine.
This prestigious award supports collaborative pairs of researchers as they carry out pilot projects that aim to explore innovative, interdisciplinary approaches addressing key challenges in the biology of neurodegenerative diseases.
The CZI award allocates $150,000 over 18 months, with successful pilots becoming eligible for additional four-year project development grants. Awardees also benefit from the support and resources of the CZI Neurodegeneration Challenge Network.
Launched in 2018, the CZI Neurodegeneration Challenge Network aims to advance the understanding of the basic biology and underlying mechanisms of neurodegenerative diseases by bringing new people and ideas into the field; developing shared tools and resources; and motivating a new type of collaborative, interdisciplinary, and open science-driven approach. The CZI Collaborative Pairs Pilot Project Awards is designed to support collaborations between a junior scientist and a senior researcher.
"This funding is an excellent opportunity for us to build a long-term relationship between our labs to tackle an important challenge in human health. CZI recognizes that a newer lab can benefit greatly from collaborations with the labs of established investigators in complementary fields. For us, the Walter lab is the perfect match to team up with for this application. Dr. Nils Walter is an absolute leader in the field of single molecule biophysics, an excellent collaborator, and unyielding in his pursuit of interdisciplinary questions and approaches. We look forward to working with, and learning from the Walter lab, and hope this is only the beginning!" says Dr. Moon.
Cross-disciplinary scientific collaborations, open-science, and the development of leading-edge new techniques are at the core of the U-M Center for RNA Biomedicine's mission, making these two scientists an excellent "pair" for the CZI grant.
"As founding co-Director of the Center for RNA Biomedicine it is an absolute pleasure to see such synergy develop from our very first Biosciences Initiative funded hire of a Faculty Scholar into the Center. Stephanie is making us all proud, and as a chemist myself it is a particular thrill to be learning from her about a scientific area entirely new to my group, with the prospect of making inroads on understanding neurodegenerative diseases that affect so many elderly people. With a 96-year old father, this strikes close to home" says Dr. Walter.
RNA science toward neurodegenerative diseases
Neurodegenerative disorders are a major public health burden, with dementias (including Alzheimer's disease) costing ~$243 billion annually in the U.S. The discovery of new diagnostic and treatment strategies that target shared molecular mechanisms of neurodegenerative diseases could therefore have a tremendous impact on human health.
The Moon-Walter project will focus on how RNA regulation and RNA-protein stress granules have been implicated in a broad range of neurodegenerative diseases, including Alzheimer's, Parkinson's and amyotrophic lateral sclerosis (ALS). In ALS in particular, a number of genes, including the gene VCP, have been shown to impact stress granules. However, the detailed mechanisms by which these molecular aggregates contribute to stress responses, impaired proteostasis, and motor neuron degeneration are not well understood. This "Collaborative Pair" will further investigate these mechanisms and their potential impact on neurodegenerative diseases.
With the support of one of the U-M Center for RNA Biomedicine core facilities, the Single Molecule Analysis in Real-Time (SMART) Center, the joint team will deploy multiplexed single-molecule imaging analysis to track the development of RNA-protein stress granules at high spatiotemporal resolution in new cell culture models of ALS and frontotemporal dementia (FTD), including human motor neurons and glia derived from induced pluripotent stem (iPS) cells.
Collaborative research synergizes the knowledge, expertise, and skills that are required to advance our understanding of fundamental biology, a first step toward finding therapies for millions of diseases that are not yet curable. The CZI award supports this foundational approach and the potential impact of the research led by the RNA scientific community of the U-M Center for RNA Biomedicine.
Chan Zuckerberg Initiative Media:
Press release
Grantee website
Medium post
CZI Science Twitter