First step first: understanding normal processes before tackling pathologies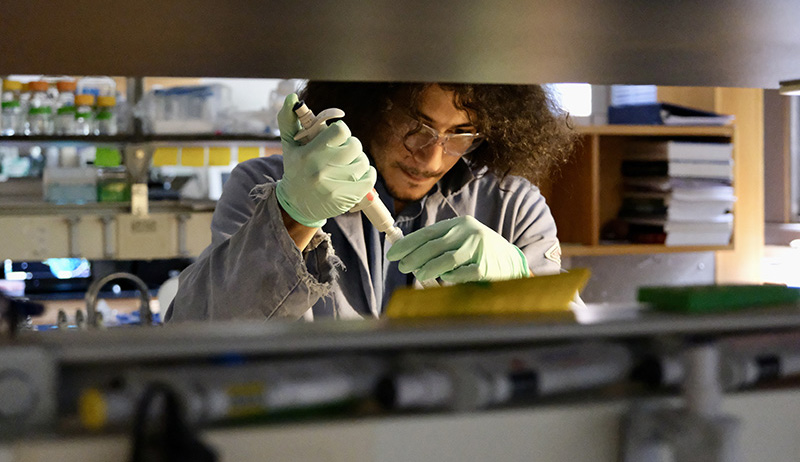 Photo: Adrien Chauvier, Ph.D., in the Nils Walter's lab (Credit: Laura Penabad-Peña)
Dr. Adrien Chauvier's journey has taken him around the world, from the Amazon rainforest to Michigan snowy winters, and his passion for science has never left him. He is now a postdoctoral fellow in Nils Walter's lab, in the Department of Chemistry of the University of Michigan.
Dr. Chauvier grew up in the equatorial forests of French Guiana, north of Brazil. French Guiana is an important biodiversity hotspot and is also the largest French territory outside the metropole.
His father owned a large plant nursery and he is the one who instilled a deep interest for the natural world into him. " I always wanted to go outside with my dad. I was very curious. We would take care of the plants and the soil together. It was no surprise that growing-up, I wanted to pursue a career in Science and especially in the biological field (…)," he fondly recalled.
Dr. Chauvier studied at the University of Paul Sabatier in the warm Southern France. Ranked among the best universities in the country for Molecular Biology, he earned his master's degree in Biotechnology and Agro BioSciences. For two years, Dr. Chauvier also joined the Laboratory of Molecular and Cellular Biology of Eukaryotes (LBME), a program affiliated with The French National Centre for Scientific Research (CNRS), under the supervision of Olivier Gadal. It is this transformative experience which encouraged him to embrace the career of a researcher.
Coming from a place where tuberculosis is still present and having personal ties to Madagascar where bubonic plague remains a concern, Dr. Chauvier was very interested in understanding how pathogenic bacteria work. He decided to pursue his studies and crossed the pond again, this time to get a Ph.D. from the University of Sherbrooke in Quebec, a colder Canadian province.
There, he completed another master's degree, this time in Microbiology, followed by a Ph.D. in Molecular and Cellular Biology.  He was a doctoral student in Dr. Daniel Lafontaine's Lab and his thesis focused on RNA regulation mechanisms, specifically riboswitches and transcription regulation in bacteria. Fundamental research is the unmissable stepping stone before performing applied research efficiently, and this is the field where Dr. Chauvier wants to contribute. "Without a good understanding of the natural biological processes, we cannot confidently address pathologies," he explained.
In Nils Walter's lab, Dr. Chauvier brought his expertise in riboswitches and combined it with state-of-the art technologies for a better understanding of cellular regulation processes. "I wanted to understand how the entire organism operates, so I learned how to use microscopy tools and how to accurately analyze the data," he explained.
Last month, he celebrated his fourth-year anniversary in the Walter's Lab where he learned various new skills and became particularly enthusiastic about teaching. Working at the University of Michigan offered him the opportunity to mentor several students from different backgrounds. "It is a humbling and rewarding experience," he said. "My first mentee just got out of high school when I first met him. He is now a co-author on my next article and he wants to pursue a Ph.D. in the field. I can't tell how proud I am of him and the work we did together!" Dr. Chauvier is now considering his next steps and he is looking for a tenure-track position or a senior scientist position.
Dr. Chauvier has several publications in highly rated peer-journals such as Nature Communications and the Proceedings of the National Academy of Sciences (PNAS). He currently has several articles under review as well. But to succeed in the field, Dr. Chauvier said the most important things are to have fun on the bench and to keep well-informed. "Every day, we're learning new things. It's exciting. Every day we contribute to make the world a better and healthier place to live. One innovation at a time, how cool is that?"
Dr. Chauvier believes it is important to lead by example. "I have been an immigrant half of my life. I know how it is to feel different and I want people around me to feel included no matter their backgrounds. I think it's important to treat people with respect."
To the young students who want a career in research, Dr. Chauvier said "I've found it hard to persevere in Science without a balanced lifestyle. Family time, self-care and hobbies are essential. Taking care of my community garden is a good breather for me. I am a researcher at heart, but I am also a proud dad, a husband, a son and a friend. Each hat is making me a better scientist."