RNA Featured Researcher – Michael McMillan, Cellular and Molecular Biology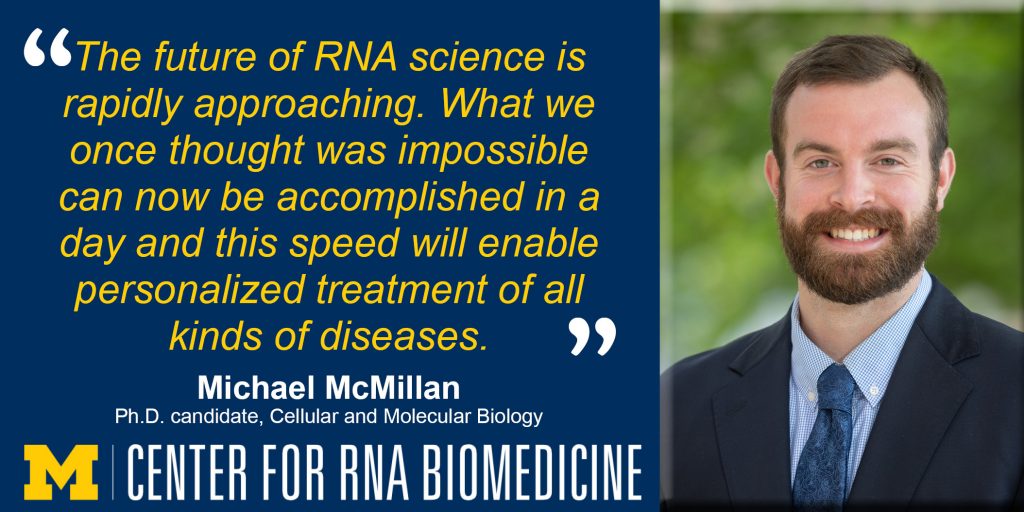 Who/what brought you to science?
I became interested in science during jr. high and high school after having three great teachers that promoted experimentation and thinking critically about science. I really enjoyed learning the intricacies of nature so I went on to study science further in college and now in grad school.
What are your research interests?
My research focuses on identifying molecular mechanisms of amyotrophic lateral sclerosis (ALS), a fatal neurodegenerative disease. Specifically within ALS I am focused on how RNA modifications influence RNA stability that may contribute to disease pathogenesis.
What do you hope is the outcome/impact of your research?
I hope that my research can open up new areas of investigation for creating therapeutics and provide some hope to those battling ALS.
What advice would you give to students who'd like to get more involved in research?
If you want to do research, contact as many PI's as you can and find any opportunity to get involved. Even if it's not your direct field of interest, you can learn skills that carry from lab-to-lab to make your skillset valuable in any lab you join.
What profession other than your own would you like to attempt?
If I wasn't a scientist, I would love to be a chef. I cooked a lot during the lockdown, and used my new skills at football tailgates which were awesome and brought a bunch of people together to have a good time.
What are your longer-term career aspirations?
My long term goals are to carry my knowledge as an RNA scientist into the biotech industry and create life changing therapeutics for ALS patients.