RNA Featured Researcher – Alyssa English, Human Genetics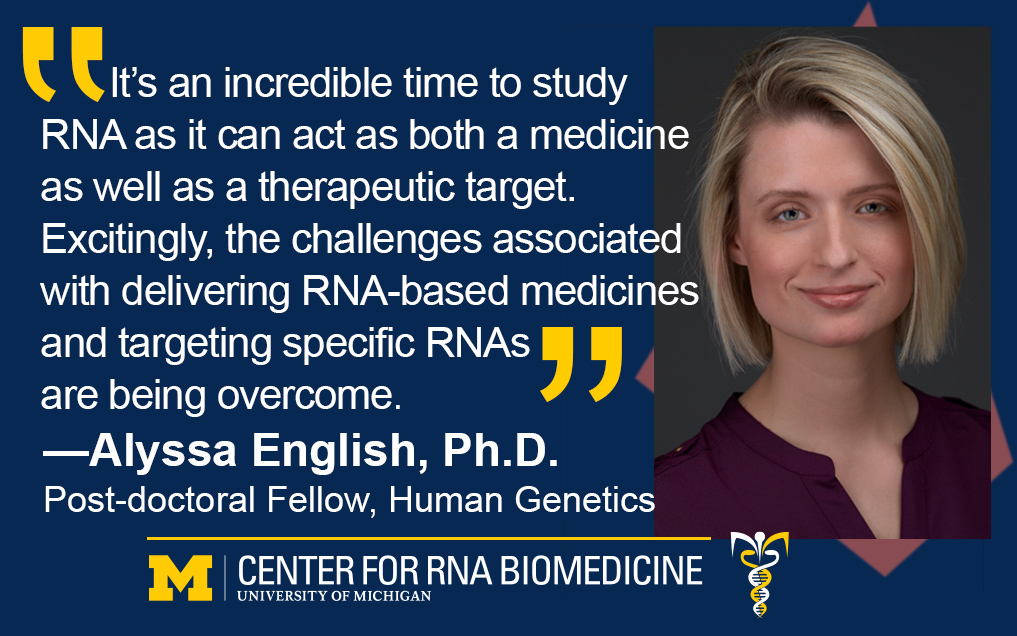 Alyssa English, Ph.D.
Postdoctoral research fellow
Human Genetics, Medical School
Faculty-Mentor: Dr. Stephanie Moon
Moon Lab Website
Alyssa's LinkedIn
Alyssa's Twitter
Alyssa's Google Scholar
Mutations in EIF2AK2, a crucial regulator of protein biosynthesis, memory storage, and synaptic plasticity, are associated with the genetic neurodevelopmental disorder Leukoencephalopathy, Developmental Delay, and Episodic Neurologic Regression (LEUDEN) syndrome through unclear mechanisms. I seek to determine the molecular mechanisms of disease-associated EIF2AK2 alleles by investigating its role in protein biosynthesis during stress, and neuronal development and function.
How does RNA relate to your research interests, and why?
RNA is central to my research. I study how mRNA localization and translation is controlled in the context of genetic diseases. More specifically, I study how mutations in key machinery responsible for coordinating the repression and derepression of translation affect the cell's response to stress.
How did you become interested in this topic?
My Ph.D. research was focused on understanding the basic genetic mechanisms underlying adaptation to amino acid stress in yeast. For my postdoc, I was interested in seeking out training that would allow me to leverage my experience in basic genetics research to investigate topics more closely related to human health. I'm currently investigating the impact of clinically relevant genetic perturbations on the basic molecular mechanisms governing mRNA translation.
Who/what brought you to science?
The biological sciences have been an interest of mine that has grown over time. While I can't pinpoint a specific moment that led me down this path, I've always enjoyed science courses the most.
What brought you to the University of Michigan?
Two things brought me here. First is the location. I grew up in Michigan and love that Ann Arbor is a small city with access to beautiful nature areas and is home to a world-class research institution. Second is the collaborative research community. Specifically, the Center for RNA Biomedicine and the Departments of Human Genetics and Neurology are highly collaborative, and it seemed like an excellent environment to tackle the questions I wanted to pursue during my postdoc.
What are the main challenges/concerns to achieve your professional goals?
The main challenge is the uncertainty involved in research. You can often go long periods of time without generating data that will lead to a publication. Since scientific success is often measured by publications, there is a lot of uncertainty with any new project and how it may impact your career going forward.
What's your favorite hobby?
I enjoy spending time in the Michigan outdoors doing things like mushroom hunting, fishing, and mountain biking.