RNA Featured Researcher – Samantha Grudzien, Neuroscience Graduate Program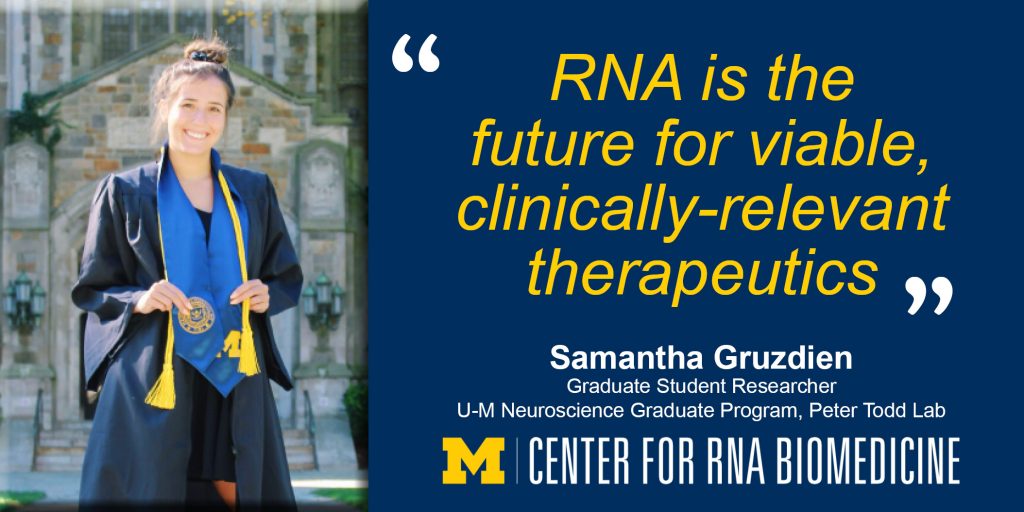 Samantha Grudzien
Graduate Student Researcher
U-M Neuroscience Graduate Program, Peter Todd Lab
Who/what brought you to science? Although not scientists, my mother has been in the medical field for over 30 years and my father has been a computer programmer. From their influence, I had an interest in STEM, and as I continued my education, my interest evolved into admiration. I am continuously inspired by the endless possibilities and questions that can only be asked and answered because of science.
What are your research interests? I am interested in how genetic variations drive neurodegenerative diseases. I work in the Todd lab, where we study microsatellite repeat expansion disorders (REDs) and repeat expansions can be throughout all regions of the gene (introns, exons, untranslated regions). Interestingly, the locations of these expansions that drive neurodegeneration can commonly be found in non-coding regions.
What do you hope is the outcome/impact of your research? In vivo mouse and complementary in vitro patient-derived data that provides rigorous evidence that will lead to clinical, RNA-based therapies for Fragile X-associated tremor/ataxia syndrome (FXTAS), the neurodegenerative disease I study.
What advice would you give to students who'd like to get more involved in research? Reach out to PIs and labs! On somewhat of a whim during my junior year at UMICH, I reached out to Dr. Samuel Kwon in MCDB because the research intrigued me, and I was offered a spot as a research technician. Ultimately, my time in Dr. Kwon's lab in undergrad led me to pursue my PhD in Neuroscience here.
What profession other than your own would you like to attempt? To be a botanist and have my own climate-friendly conservatory that is open for everyone to enjoy.
What are your longer-term career aspirations? To have a job where I can explore my curiosities while also expanding the current breadth of knowledge in cellular and molecular neuroscience.