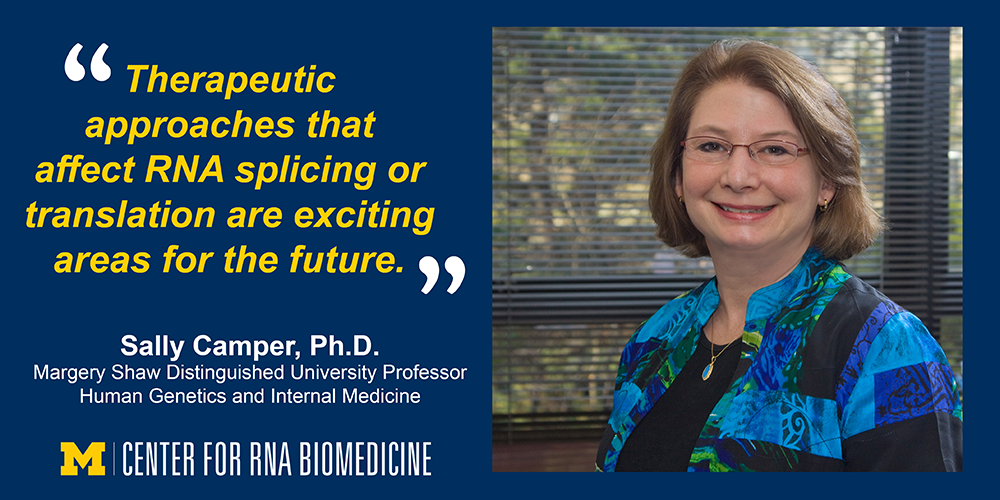 Sally Camper, Ph.D.
Margery W. Shaw Distinguished
University Professor
Professor of Human Genetics
Professor of Internal Medicines
Our lab is interested in single cell RNA sequencing for understanding cell differentiation in health and disease.
Visit Lab Website
View Michigan Research Experts Profile
Follow on Twitter: @sallycamper
What are your research interests?

Regulation of stem cell proliferation and differentiation into neuroendocrine cells
Genetic basis of birth defects affecting craniofacial development, including autism and pituitary hormone production
Use of single cell transcriptomics to understand organ function and dysfunction
Who/what brought you to science? As a child I was fascinated with the natural world, from bugs, plants, and rocks to astronomy. As an elementary schooler I had the opportunity to attend 2 week-long summer science day camps. Although I was the only girl there, I really enjoyed it. I delighted in the opportunity to use a microscope to see single celled organisms swimming around in water I had scooped out of a ditch near my house. In high school I had a fantastic Chemistry teacher, Jack Cairns, who later helped found the Science Olympiad. He really made chemistry fun. In college, I was a chemistry major at University of Delaware, my home state. I chose German as a foreign language to study in college because it was useful then for reading original literature in Chemistry. I was awarded a fellowship to study for a year in Germany, at the Technical University in Darmstadt. I took as many courses as I could in biology, including biochemistry with Dr. Gassen, known at the time for his work on translation, including mRNA, tRNA and ribosome interactions. In my junior year my Biochemistry Professor, Hal White, announced he had two funded summer undergraduate research opportunity spots. I needed a summer job, so I applied and was hired, which was my first exposure to research. I decided to go to graduate school and obtained my PhD in Biochemistry working with Fritz Rottman who was known for discovering the 5'm7Gppp cap structure of mRNA. My research project focused on studying RNA transcripts of pituitary hormone genes and the role of m6A modification of mRNA in an era when DNA cloning and DNA sequencing were new technologies. I remember my excitement in viewing RNA:DNA hybrids under the electron microscope. I carried out postdoctoral training with Shirley Tilghman at Princeton University, who was famous for cloning the first mammalian gene. I studied transcriptional regulation of gene expression using genetically engineered mice. I came to University of Michigan in 1988 as an Assistant Professor in Human Genetics with the goal of studying genetic causes of birth defects.
What advice would you give to students who'd like to get more involved in research? Get involved in a research opportunity program. Try a couple of different projects and see if you like research..
Are there any opportunities for students to engage in your projects, currently or in the future? Yes, we often have openings for undergraduate students to work with a graduate student, postdoctoral fellow or laboratory staff member on a research project.
What skills would they need, and what could they expect to learn? A basic foundation in science, interest in a hands-on research experience, strong work ethic, good written and oral communication skills are needed. Students can learn the methods of scientific discovery, critical analysis of data and the literature, and scientific communication skills.
What profession other than your own would you like to attempt? I love art. I see the artistic beauty of the natural world and enjoy designing prospective cover art for scientific manuscripts we publish.
---