Current opportunities: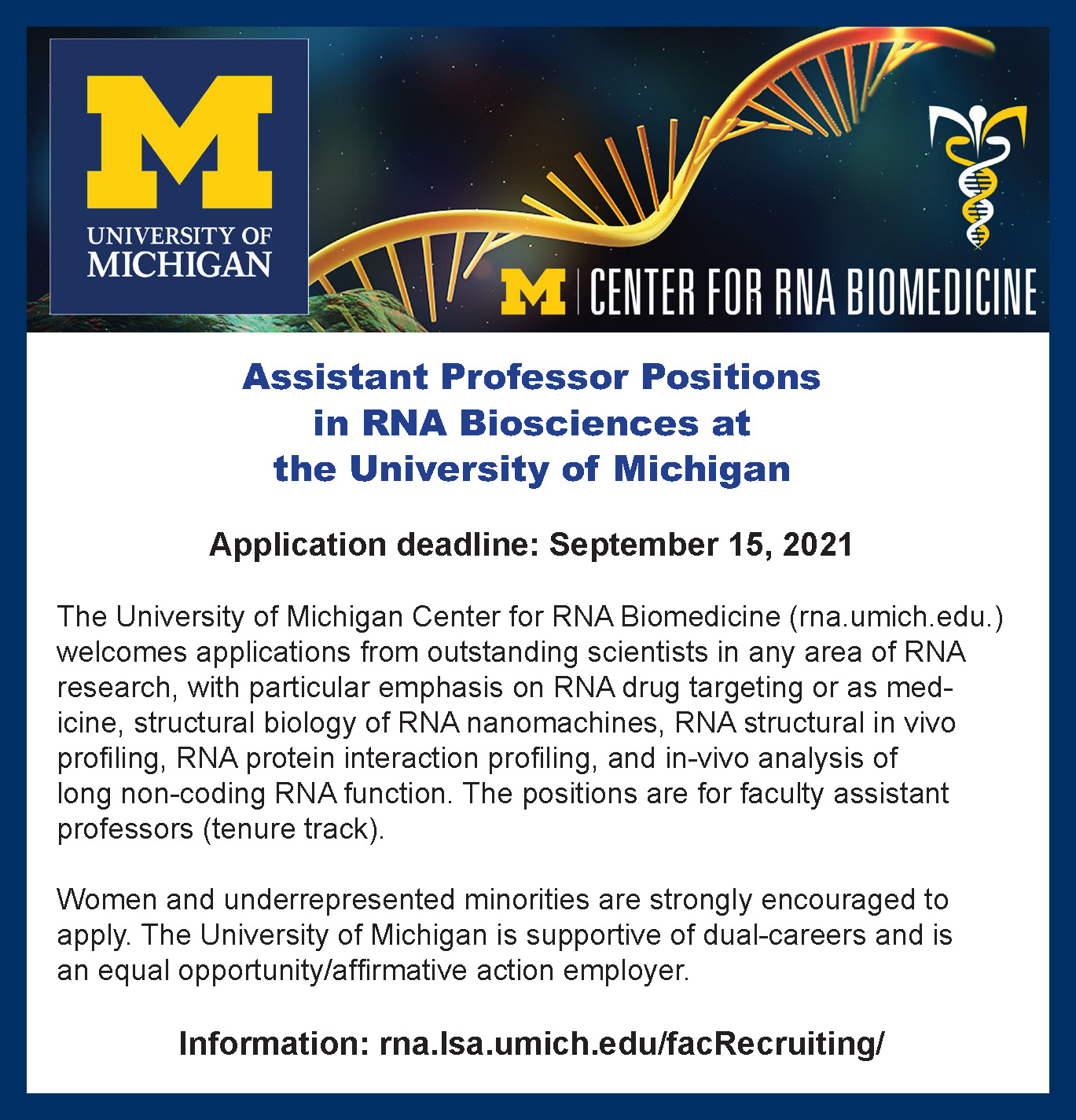 May 19, 2021 – The Phil Zamore Lab at UMass Medical School

is looking for motivated and ambitious researchers to join our team! Research in our lab focuses on molecular explanations for biological pathways guided by small RNAs and DNAs loaded into Argonaute proteins, including small interfering RNAs (siRNAs), microRNAs (miRNAs), and PIWI-interacting RNAs (piRNAs). Our flyer can be found 

here

. To apply, please email your CV to 

Phillip.Zamore@umassmed.edu


RNAi Post-Doctoral Research Fellow – April 7, 2021
Position Overview A postdoctoral research position employed by Terminix in collaboration with the USDA National Wildlife Research Center (NWRC). The position will be based in Fort Collins, CO. The position is under the toxicology research group at NWRC which is responsible for developing and testing novel toxicants to control vertebrate pest wildlife species to reduce human/wildlife conflict and protect agriculture. The NWRC Principle Investigator will coordinate and oversee research activities. Research will include laboratory studies on RNAi efficacy and timeline of effects, off-target effects, and possible immune activation. Further studies using animal models will be done to determine in-vivo efficacy. MORE INFO.  APPLY HERE
Senior Scientist or Scientist at U1Bio – April 1, 2021
In the role of Sr. Scientist you will create a scientific strategy by developing an in-depth understanding of U1 Bio's platform and workflows. You will be responsible for optimizing current platform capabilities as well as identifying new capabilities and indication areas. This is a highly collaborative position in which you will coordinate execution of strategy by integrating across the many disciplines represented within U1 Bio, from molecular biology to disease biology, high-throughput sequencing, and pooled screening. MORE INFORMATION
Junior Group Leader Position "Genome Integrity, RNA and Cancer," Unit Institut Curie, France
The "Genome Integrity, RNA and Cancer" Unit is broadly interested in genome integrity and gene expression. This Unit is in a unique position to describe molecular/cellular mechanisms that underlie genome biology at unprecedented levels thanks to in-house complementary expertise in DNA replication, recombination and repair, RNA biology, cytoskeleton, control of cell division and cancer biology. Web site of the Unit. Deadline: April 25th, 2021
MORE INFO
Postdoctoral position at Yale University in the Grace Chen Lab (posted 1/20/2021)
We are seeking postdoctoral fellows to join the laboratory of Dr. Grace Chen at Yale University in the Department of Immunobiology. The Chen lab investigates the mechanisms and regulation of circular RNAs (circRNAs), a newly identified class of ubiquitous RNAs in essentially all eukaryotes and some viruses. Thus far, circRNAs have been found to function as miRNA sponges, regulate transcription, and act as templates for translation. However, there are still many unanswered questions: What other functions do circRNAs possess? How are circRNAs degraded? What are their interacting proteins? Specifically, we aim to understand how different layers of regulation including RNA modifications and cellular localization affect RNA function to enable new insights into both normal function and how dysregulation leads to disease. The Chen Laboratory applies molecular, cellular, and chemical biology techniques coupled with next-generation sequencing to address these questions. We aim to generate novel therapies based on our new insight about circRNA function and regulation. For more information, visit gracechenlab.org.Applicants should have recently completed a Ph.D. degree in molecular biology, chemical biology, immunology or genomics. High priority will be given to those candidates with strong backgrounds in RNA or chemical biology. Interested applicants please send a brief statement of interest and curriculum vitae with contact information for three references to the PI Dr. Grace Chen at ye.grace.chen@yale.edu.
Postdoctoral Position in Epigenetics and Cellular Plasticity with a Focus on: Chromatin Assembly and Non-Coding RNAs – Laboratory of Dr. Sihem Cheloufi in the Department of Biochemistry and Stem Cell Center at the University of California, Riverside.
A successful applicant will have a strong background in molecular biology, biochemistry and cell biology. Prior experience in RNA, chromatin and computational biology is desirable. For more background info visit: Google Scholar Interested applicants should send their CV and contact information of three referees to cheloufi@ucr.edu.
Senior Investigator – RNA Biology

(Equivalent to a Faculty level Associate Professor or Professor)

The National Cancer Institute (NCI), Center for Cancer Research (CCR), RNA Biology Laboratory is seeking an outstanding, internationally known scientist to lead an independent research group focused on any area of RNA biology.
Postdoctoral position in the Lab of Lynne Maquat, Ph.D.,

Director, Center for RNA Biology Professor, Departments of Biochemistry & Biophysics, Oncology, and Pediatrics, University of Rochester, NY

Applicants should hold a PhD or MD/PhD degree(s) and have expertise in molecular, cellular, or structural biology to study one of a number of ongoing projects, including but not limited to FMRP function in Fragile X Syndrome (FXS), or effectors of nonsense-mediated mRNA decay efficiency. A background in neurobiology and/or stem-cell biology would facilitate the work on FXS, a background in computational biology would facilitate both projects, but neither is required.
Postdoctoral Fellowship at Bio-Rad, Ann Arbor, MI
Bio-Rad is seeking an independent scientist in Biochemistry for a 12-month Postdoctoral Fellowship in the Technology Development Group. You will be a key contributor innovating molecular biology solutions and workflows for Bio-Rad's new suite of Digital Biology tools.  These platforms will be leveraged to change the world's ability to resolve disease biology with unprecedented resolution, ease, and speed.
More information
Research Associate (Post-Doc)/Research Scientist positions in the Joerg Lahann's Lab at the University of Michigan
In an attempt to support our COVID-19 research projects and bolster our expertise in the Life sciences, the laboratory of Joerg Lahann (lahannlab.com) at the University of Michigan seeks experts with experience in one or more of the following research fields:

Gene or nano-theraputic insertion via microinjection (single cell and pronuclear)
Custom and bulk protein manufacturing/synthesis and high-throughput screening
Intercellular gene transfer and gene transfer studies in cell populations
Cellular nano-theraputics, cell nanofiber interactions, and cellular characterizationKey Qualification: Possession of a Ph.D. or equivalent in a life science or biochemical discipline (or pending graduation).
Direct cover letters and CV to: Joerg Lahann, lahann@umich.edu, and CC Lisa Moran, lgmoran@umich.edu"
More information
Postdoctoral positions in the Keane lab at the University of Michigan

The Keane lab is actively seeking postdocs how have experience with RNA biochemistry or NMR spectroscopy. Candidates should email Professor Keane (

sckeane@umich.edu

) their CV and the contact information for three references.
Postdoctoral positions at Hariadi Lab, Arizona State University
NIH–funded positions in multi-disciplinary research, Hariadi Lab, Arizona State University
Your profile:
1. Have expertise in at least one of these areas: (i) DNA nanotechnology, (ii) super-resolution microscopy, (iii) molecular biology (e.g., cytoskeleton), (iv) cryo electron microscopy, and (v) virology.
2. Have a Ph.D. or nearing completion of a Ph.D. in Physics, Molecular & Cellular Biology, Biomedical Engineering, Biochemistry, or related topics.
3. Some computational/analytical skill would be a distinct advantage.
More information
Postdoctoral and Staff Scientist positions in the Alumkal Lab at the University of Michigan
Joshi Alumkal's lab is recruiting a post-doc and a staff scientist focused on transcriptional regulation and lineage plasticity/drug resistance in prostate cancer. The positions are intended for highly-motivated individuals with an MD and/or PhD with expertise in cell and molecular biology, biochemistry, or epigenetics. Experience with cancer research is preferred.
More information
Postdoctoral position that the  The RNA Institute – University At Albany
The Halvorsen Lab at The RNA Institute – University At Albany, has an immediate opening for a postdoc position. The lab focuses on DNA-based biosensors (including COVID-related), single-molecule biophysics, and DNA nanotechnology.
Learn more at http://halvorsenlab.com and reach out if interested.
Postdoctoral Research Associate position at the University of Texas-Austin, focusing on RNA Biology/Biochemistry
Join Dr. Lydia Contreras' lab at the University of Texas at Austin, a top research university in the US. Dr. Contreras is an Associate Professor in the Department of Chemical Engineering and a member of the Biophysics Department and the Institute of Cell and Molecular Biology (Biochemistry, Cell Biology and Microbiology). The ideal candidate is highly driven and holds strong interest in using cutting-edge technologies to study RNA biochemistry toward the identification and characterization of regulatory systems, RNA-protein interactions, and functional epitranscriptomics. The lab makes great strides to maintain a vibrant, productive, and driven team with a supportive culture conducive for scientific and personal growth. Projects in the Contreras lab are interdisciplinary and the candidate will be expected to contribute to this highly collaborative and nurturing learning environment.
More information
Postdoctoral position in RNA Biology at the University of Michigan
A post-doctoral position is available in the RNA laboratory of Dr. Vivian G Cheung at the University of Michigan. This position is intended for a highly motivated individual with an M.D. and/or Ph.D. in RNA biology, biochemistry, cell and molecular biology, genetics, or a related field. Recent graduates are preferred.Our laboratory studies RNA sequences and structures to understand how they affect cell functions. Projects include identifying and characterizing proteins that alter RNA sequences and/or structures, and determining how the resulting nucleic acids regulate cellular activities, including the development of RNA-based therapeutics against SARS-CoV-2. Expertise in biochemistry, cell and molecular biology techniques, enzymology, immunofluorescence, microscopy, RNA, and protein characterization is highly desirable. Experience with yeast biology and human genetics is preferred.The candidate will work independently, and are skillful in oral and written research communication. Salary is commensurate with experience. The successful candidate will receive mentoring to build an independent career, and be encouraged to develop a project that s/he will take with her/him to start her/his own lab.Send or e-mail a curriculum vitae, a letter stating research interests and contact information for three references to: Vivian G Cheung, MD HHMI/ University of Michigan Department of Pediatrics Life Sciences Institute, 210 Washtenaw Avenue, Room 5435, Ann Arbor, MI 48109. vgcheung@umich.edu
Previous opportunities:
RNA Biologist Two positions available at Ionis Labs. The goal is to increase our understanding on how ASOs target RNA to modulate the expression of genes so that we can vastly improve the activity and safety of our drugs. Click here to view posting.
Postdoctoral Fellowship, University of Chicago, A postdoctoral position is available in the NIH-funded laboratory of Dr. Christopher Gomez to investigate the genetics, physiology, and pathogenesis of bicistronic calcium channel genes. Click here to view posting.
The Department of Chemistry at Kalamazoo College invites applications for a one-year appointment as a Visiting Assistant Professor of Chemistry with a focus on Biochemistry. The position will begin September 2020. (Click here to view full advertisement.)
Postdoctoral Fellowship, RNA Microscopy Lab, A fully funded postdoctoral fellow position is available in the TRCEK LAB at the Biology Department at Johns Hopkins University starting March 1st, 2020. Trcek lab works on determining the mechanism and the role of mRNA self-assembly in development and disease. Click here to view posting.
Postdoctoral Fellowship, RNA Biology Division, New England Biolabs. Seeking a postdoc who would work on mapping RNA modifications using mass spectrometry. This is a 3-year academic-style postdoc in industry with publication opportunities and the chance to present findings at conferences. Click here to view posting.
Grant and Development Strategist at the RNA Bioscience Initiative in Denver. This position can have an appointment as a Research Faculty (non-tenure track) or as Senior Research Associate depending on qualifications and experience. The overall goal of the position is to help the Initiative develop multi-PI research grants and educational grants to support the RNA Bioscience Initiative. The person will also interact with diverse faculty on campus (basic, translational, and clinical) to find research interests in common or complementary and help develop collaborative projects. The person will also work to raise awareness of our RNA research efforts at the University of Colorado School of Medicine Anschutz Campus. Click here to view one page description.
Tenure-track faculty positions are available in the Department of Biochemistry & Molecular Biophysics at Columbia University in the area broadly defined as RNA and Chromosome Biology. (Click here to view full advertisement.) Review begins November 11, 2019.
The Department of Chemistry at Brandeis University is seeking a creative individual at the assistant professor level for a tenure-track faculty position in either experimental physical chemistry or chemical biology. Exceptional candidates at the associate professor level in all areas of chemistry will also be considered. Applicants should upload their CV including a list of publications, a description of their research plans, and a statement of teaching experience and philosophy to https://academicjobsonline.org/ajo/jobs/14241. (Click here to view full advertisement.) First consideration will be given to applications received by October 15, 2019.
Ph.D. Program in RNA Biology: The Molecular Biology Program at the University of Colorado School of Medicine has a focus on RNA biology with faculty spanning a breadth of RNA-related research. Please apply to the Molecular Biology Program and indicate your interest in the RNA Biology track. In addition, we recommend you also request that your application be considered by the Biomedical Sciences Program, which is our campus umbrella program and from which you can also join Molecular Biology. See the flyer PDF. Deadline Dec 1, 2019.
NCI Postdoctoral Fellow in the Jordan L. Meier Chemical Biology Laboratory, National Cancer Institute. Looking for either a chemical biologist or nucleic acid biochemist broadly defined (we have great projects for both). Strong skillset in synthetic chemistry, cell biology, OR bioinformatics is a plus but not required. Applicants should email : jordan.meier@nih.gov. Deadline Dec 1, 2019.
Public Relations Specialist at the Center for RNA Biomedicine – We're hiring! Do you ❤️ science and have an uncanny ability to share knowledge with diverse audiences?  This position will manage communications for our center and write press releases for the diverse RNA research faculty that span both medical and central campuses. Candidates for this position should be strong writers and communicators and experienced interviewers. Experience translating complex information for a general audience is especially important. We welcome candidates from diverse backgrounds who share our passion for developing innovative solutions.
Faculty Search: The Center for RNA Biomedicine, recently becoming a pioneering part of the $150M University of Michigan Biosciences Initiative, solicits applications for faculty positions at the assistant professor level. The faculty positions will be on the tenure track with university year appointments starting Sep. 1, 2020, or Jan. 1, 2021. (Click here to view full advertisement.) Deadline for review of complete applications is September 15, 2019.
UM Med School Postdoc Recruitment event: The University of Michigan Medical School will host its next postdoctoral recruitment event October 10-11, 2019. We kindly ask that you explore Postdoc Preview and share this information with trainees, colleagues and departments from around the U.S. that are especially strong in your field. Postdoc Preview introduces upper-level graduate students in the biomedical sciences to the excellent research and training opportunities here at Michigan. During a fully-funded visit, recruits interview with two or more prospective mentors, learn about our NIH-funded training programs, and network with current postdocs (tentative schedule here). Applicants are selected from a national pool of highly qualified individuals who expect to complete their thesis research over the course of the next year and be U.S. citizens or permanent residents or be currently enrolled in a U.S. graduate institution. Our office sponsors and manages the logistics of their visit. Applications for the event can be found at https://postdocpreview.smapply.io/. Deadline: August 5, 2019. Please contact postdocoffice@med.umich.edu with questions.
NCI Tenure Track/Tenure Eligible Investigator (RNA Biology) – online application will begin on November 2, 2017.
The Department of Chemistry at Case Western Reserve University has been approved to search for an RNA Chemist tenure track faculty position. To be considered, a letter of application, CV, and a summary of research plans should be sent by email c/o Suzi Mason (sxm763@case.edu) before November 10, 2017.  Click here for Advertisement
The Chemical Genomics Centre (CGC) is advertising for three new positions for the next 5-year period. One of the topics looking to address and for which they are looking is for top people with a very strong proposal in nucleic acid-small molecule interactions. Applications due to Debora Bruzzese, e-mail: debora.bruzzese@mpi-dortmund.mpg.de, before November 10th, 2017. Click here for advertisement
Department of Biochemistry and Molecular Biophysics at Columbia has openings for TENURE-TRACK faculty positions at the level of assistant professor. The department seeks individuals with exceptional accomplishments and abilities in the broad areas of RNA and chromosome biology. Completed applications, including the research statement, curriculum vitae, PDF copies or links for three reprints, and contact information for three references must be submitted online via the following website: academicjobs.columbia.edu/applicants/Central?quickFind=64947 Click here for advertisement  ~~ Additionally, a postdoctoral positions available  Click here for advertisement