RNA Innovation Seminar, Rhiju Das, Ph.D.
Monday, September 13, 2021 @ 4:00 pm

-

5:00 pm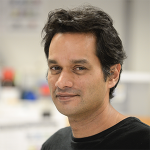 "Recent improvements in modeling and design of RNA-only structures"
Rhiju Das, Ph.D.
Associate Professor
Departments of Biochemistry and (by courtesy) Physics
Stanford University
Registration: https://umich.zoom.us/webinar/register/WN_i7vWSsxDQfSVbQP1C7HGSQ
Abstract:
The discovery and design of biologically important RNA molecules is outpacing three-structural characterization. I'll describe results from my and Wah Chiu's groups that demonstrate that cryo-electron microscopy can resolve maps of several kinds of RNA-only systems. These maps enable subnanometer-resolution 3D coordinate estimation when complemented with multidimensional chemical mapping and Rosetta DRRAFTER computational modeling. If time allows, I'll describe work from the Eterna project to stabilize mRNA molecules to help accelerate worldwide COVID immunization.