RNA Innovation Seminar: Jeremy Schroeder, Biological Chemistry
Monday, November 21, 2022 @ 4:00 pm

-

5:00 pm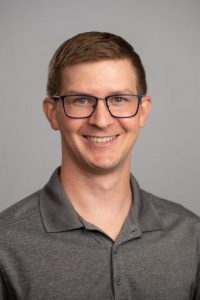 "RNA:DNA hybrids cause genome instability through nucleobase deamination, genomic rearrangements, and induction of the DNA damage response"
Jeremy Schroeder, Ph.D.
Research Investigator
Biological Chemistry
University of Michigan
In-person: BSRB, ABC seminar rooms / hybrid link
Abstract: The overall impacts of naturally occurring RNA:DNA hybrids on genome integrity, and the relative contributions of ribonucleases H to mitigating the negative effects of these hybrids, remain unknown. Here, we use the model bacterium Bacillus subtilis to investigate the contribution of RNases HII (RnhB) and HIII (RnhC) to hybrid removal, DNA replication, and mutagenesis genome-wide. Deletion of either rnhB or rnhC alters RNA:DNA hybrid formation, but with distinct patterns of mutagenesis and hybrid accumulation. For ΔrnhB, hybrids form preferentially in genes transcribed co-directionally with DNA replication. For ΔrnhC, hybrids accumulate in all genes regardless of their orientation, and DNA replication is disrupted leading to transversions and structural variation. We find that base deamination in the displaced strand of an R-loop leads to transition mutations in coding sequences, independent of gene orientation. Our results resolve the outstanding question of how hybrids in native genomic contexts interact with replication to cause mutagenesis.