2020 Rustbelt RNA Meeting / Friday, October 23 and Saturday, October 24, 2020
Friday, October 23, 2020

-

Saturday, October 24, 2020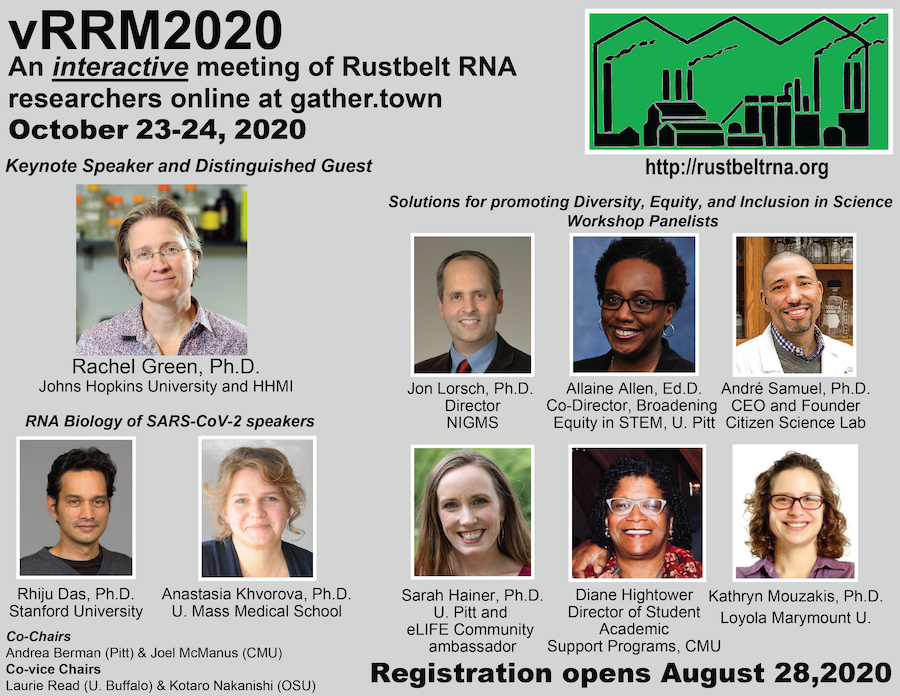 2020 Rustbelt RNA Meeting (www.rustbeltrna.org/2020) will be held Friday, October 23 and Saturday, October 24, 2020.
This year's RRM will use the interactive online platform (
Gather.town
), including plenary oral presentation sessions (zoom webinar), poster session rooms, and sponsor booth rooms for our corporate sponsors (both with live video chat).
The Keynote speaker is Dr. Rachel Green, of JHU and HHMI, who will present on Friday evening.  In addition, there is a special session Saturday morning on the RNA biology of SARS-CoV2, featuring Drs. Rhiju Das (Stanford) and Anastasia Khvorova (UMass Medical School).
Workshops this year will cover Introductory Bioinformatics for RNA research (Friday morning) and Solutions for promoting Diversity, Equity, and Inclusion (DEI) in Science (Saturday morning). We are particularly excited about the DEI workshop, as we have brought together leaders working to improve diversity at multiple levels of the biomedical research pipeline (see the attached poster).
Important notes:
1) The early Registration fee is just $25 to cover meeting expenses.
2) Registrations can be paid by any major credit card (no checks this year).
3) Poster and oral presentation files must be uploaded in advance, as we will need to "put up" your poster for you and preload talks for a smooth webinar experience.
4) We will have poster and talk prizes as in past years.